Fresh clashes erupted Monday morning between police and hundreds of anti-government protesters who forcibly entered the heavily-guarded Pakistan Secretariat here after breaking its gate, hours after the powerful military asked all parties to peacefully resolve the political crisis.
The protesters also broke into the PTV national television station's headquarters in Islamabad on Monday. The national channel went off air briefly before coming back on. The army secured the building and put it under protection.
Following these protests, Prime Minister Nawaz Sharif met with the Army Chief Raheel Sharif.
Pakistan's Supreme Court has now offered to mediate talks between the government and the protesters.
India has expressed concern over the development's in Pakistan. "What is happening in Pakistan is definitely a matter of concern. Ministry of External Affairs looks at it minutely," said, Prakash Javadekar, Union Minister for Information and Broadcasting. Read more.
Live Updates:
In the wake of the escalation of protests, Prime Minister Nawaz Sharif met with the Army Chief Raheel Chief. He also tweeted his outrage at the state of affairs-
What sordid state of affairs ! I couldn't be the PM, I will set the whole country on fire! What a shame! No enemy could do this to Pak!

— Maryam Nawaz Sharif (@MaryamNSharif) September 1, 2014
Media stop airing speeches inciting the mob to mutiny. Who are u with, Pakistan or the traitors ?

— Maryam Nawaz Sharif (@MaryamNSharif) September 1, 2014
Pakistani protesters broke into the PTV national television station's headquarters in central Islamabad on Monday, the channel reported. It showed live footage of a crowd of men streaming into the building after breaking through its gate. PTV channel and its English-language PTV World service were taken off the air after protesters stormed its headquarters in central Islamabad. "They have stormed the PTV office," a news anchor said just before the screen went blank. "PTV staff performing their journalistic duties are being beaten up." Read more.
PTV returned to air on Monday after the army and paramilitary Rangers cleared its headquarters of protesters and put the building under protection. A Reuters photographer saw the military escorting the demonstrators out of the building in central Islamabad in a peaceful and orderly way.
Imran Khan tweeted saying that his group Pakistan Tehreek-e-Insaaf was not involved with the attack on PTV.
PTI did not attack PTV and we totally disown this action. It damages our cause. We have always been peaceful & unarmed.

— Imran Khan (@ImranKhanPTI) September 1, 2014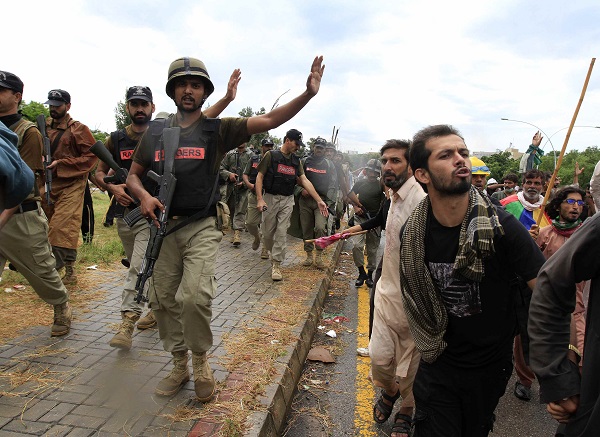 Earlier on Monday morning, anti-government protesters had forcibly entered the heavily-guarded Pakistan Secretariat here after breaking its gate. After a brief calm due to overnight rain, the protesters armed with clubs and sticks this morning broke the gate and entered the premises of the secretariat, defying calls from the army personnel not to enter inside the building. Police fired rubber bullets and tear gas shells to push them back but remained unsuccessful. The protesters damaged vehicles of employees of the secretariat.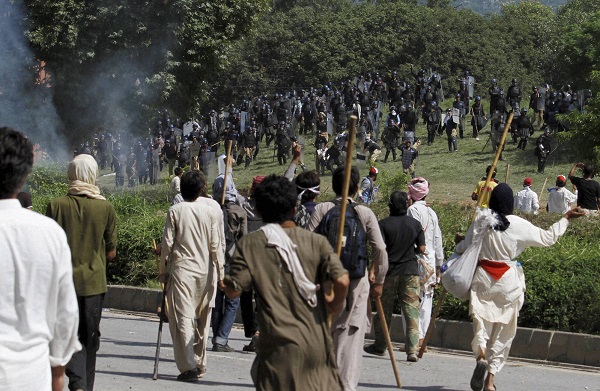 The fresh clashes came hours after an emergency meeting of army corps commanders last night who expressed serious concern over the prevailing political turmoil in the country with the government of embattled Prime Minister Nawaz Sharif locked in a showdown with Pakistan Tehreek-i-Insaf chairman Imran Khan and Pakistan Awami Tehreek chief Tahir-ul Qadiri.
The News reported that a case has been registered against Khan for inciting violence and encouraging attack at the security forces and the parliament, a charge denied by him. Khan and Qadri have snapped communications with the official negotiators after the fifth round of talks failed to produce any result last week.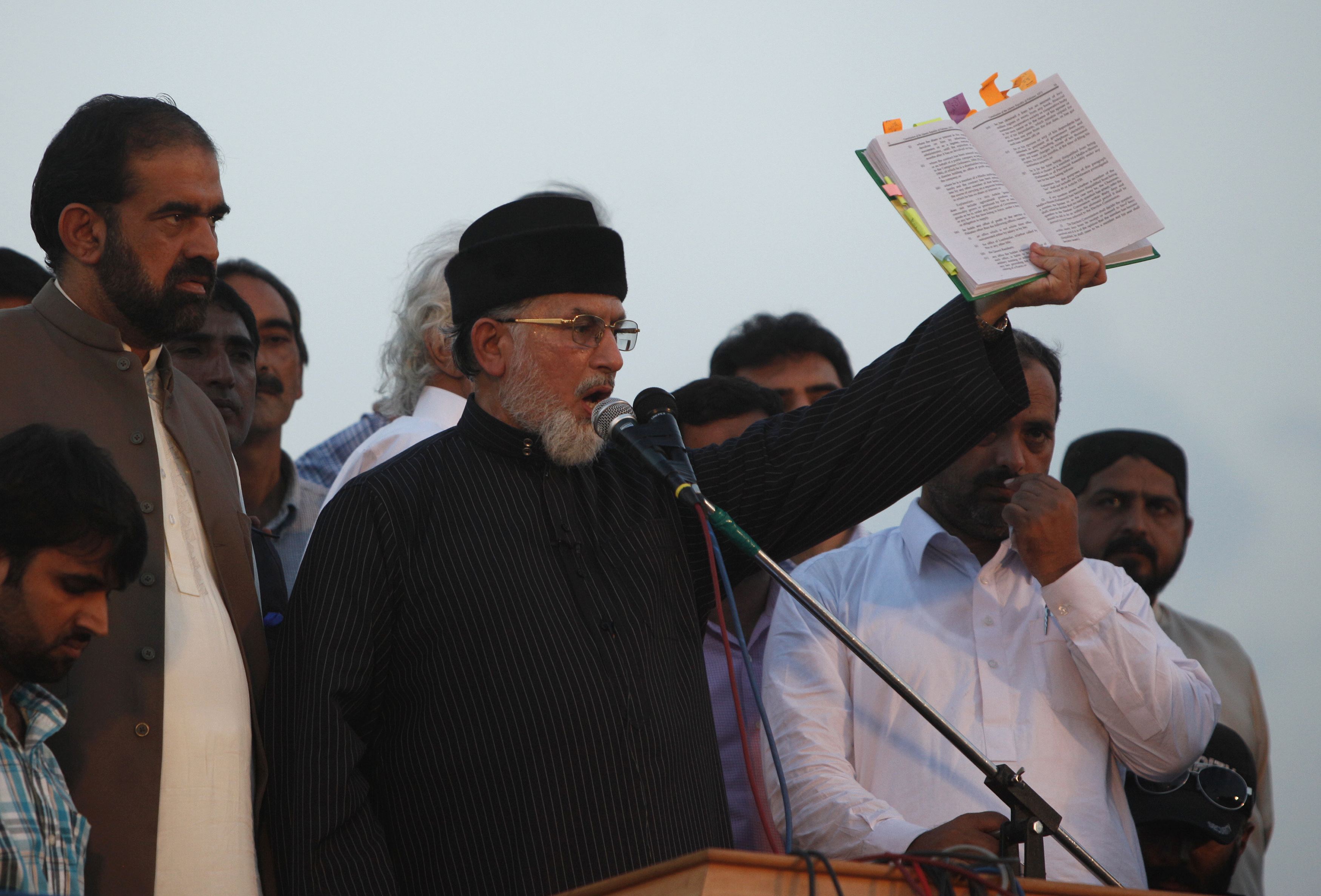 Army Chief Calls for Crisis Resolution through Political Means
Army chiefs held an emergency meeting in the garrison city of Rawalpindi on Sunday night to discuss the crisis, prompting speculation that the military could take decisive action to end the crisis in a nation where power has usually changed hands via coups rather than elections.
But in a brief statement, the army reaffirmed its commitment to democracy and said the crisis had to be solved politically. "Further use of force will only aggravate the problem. It was once again reiterated that the situation should be resolved politically without wasting any time and without recourse to violent means," it said.
Small skirmishes continued into Sunday, with police occasionally firing teargas, but the crowd massing outside parliament appeared peaceful on Sunday night, with some dancing or sleeping on the grass. Smaller protests were also reported in the city of Lahore, Sharif's political power base, and other parts of Pakistan. How the crisis ends and whether Sharif survives ultimately lies in the military's hands in a country ruled by generals for half of its history.
Peaceful anti-government demonstrations spilled over into deadly confrontation overnight after thousands of protesters tried to storm Sharif's residence. Police responded with teargas and rubber bullets. At least three people were killed and more than 550 injured , further angering protest leaders.
The army said it was asked by the government to help defuse the crisis but has so far not directly intervened. It was unclear how the deadlock could be resolved with the opposition flatly refusing to leave the streets until Sharif quits.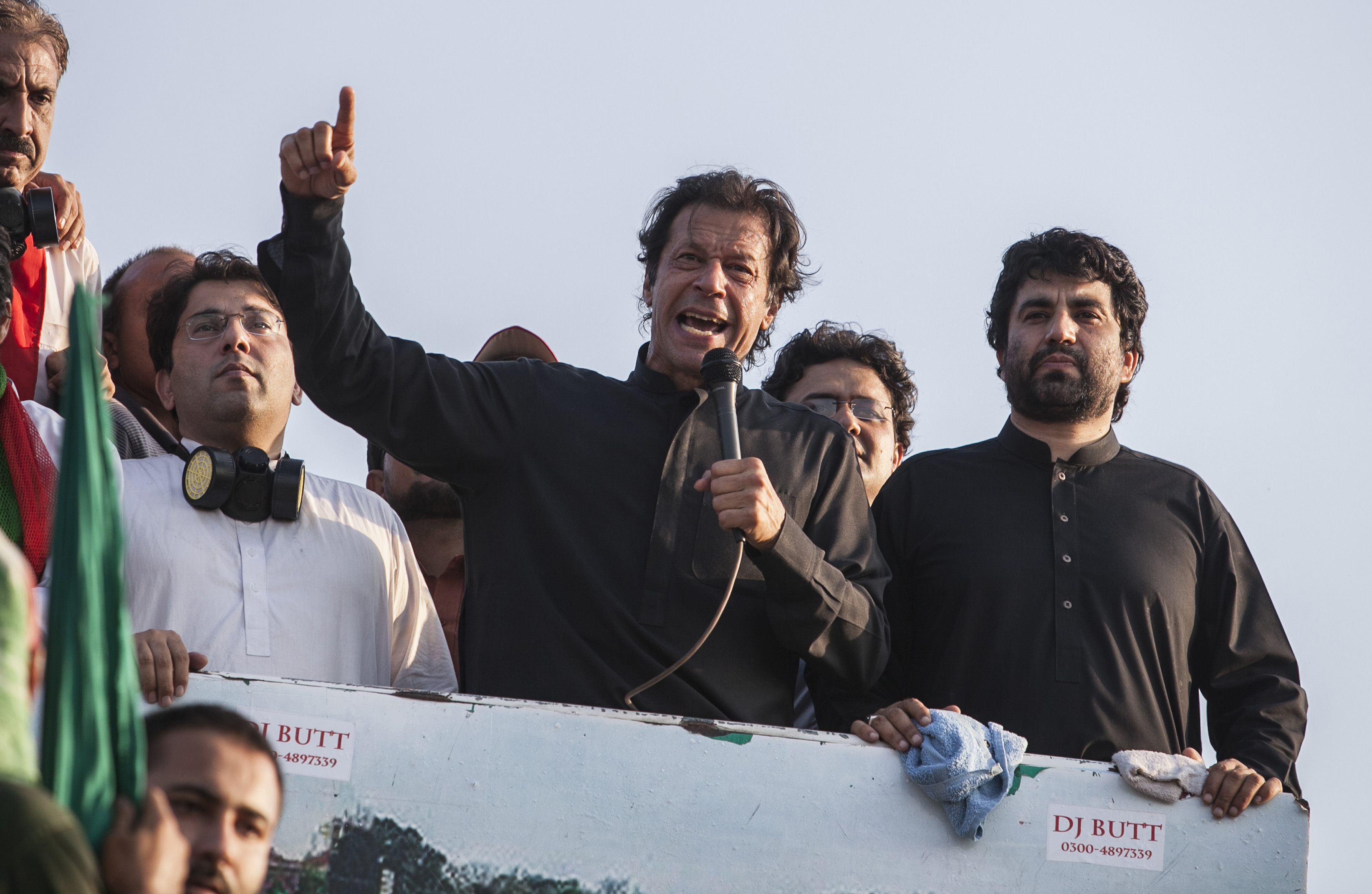 Background
Protests led by Imran Khan, a renowned cricketer before entering politics, and fiery cleric Tahir ul-Qadri, erupted in the capital Islamabad on August 15 and talks to find a negotiated solution have repeatedly failed. "I am prepared to die here. I have learnt that government plans a major crackdown against us tonight," Khan told his supporters. "I am here till my last breath."
Despite his fiery rhetoric, there were no signs the crowd was preparing to march on government buildings again. Ousted from an earlier stint in office in a coup in 1999, Sharif still has a difficult relationship with the army.
Khan told the cheering crowd to challenge security forces protecting the parliament and the prime minister's house. "The way you stood up last night, you have to stand up today also," he said. "We will face them and make them run away this time."
Sharif, who swept to office last year in Pakistan's first democratic transition of power, has resisted calls to resign while agreeing to meet other demands such as an investigation into suspicions of fraud during last year's election. His office reiterated on Sunday evening that his resignation was out of the question. "It was agreed that this undemocratic onslaught should be withdrawn and parties should come back to the negotiation table," his press office said in a statement after Sharif chaired a meeting with his top officials.
Activists demanding Sharif's resignation have camped outside government offices for more than two weeks.
Even if he rides out of this crisis, Sharif is likely to remain significantly weakened for the rest of his tenure and sidelined on key issues such as foreign policy and security. Qadri, who has rallied thousands of his own supporters alongside those of Imran Khan, said protests would not subside unless Sharif resigned. "State atrocities have reached their peak," he told his supporters, standing on top of a shipping container. "Imran Khan and Dr. Qadri are fighting this war together."
With inputs from Reuters and PTI.