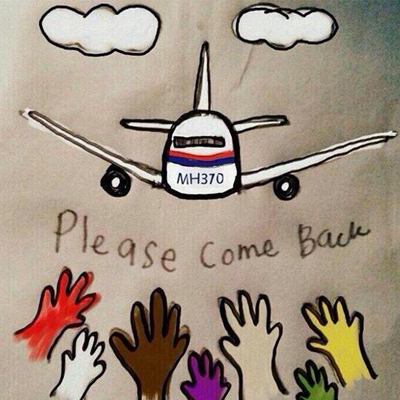 A Malaysia Airlines flight carrying 227 passengers and 12 crew members went missing in the area near the South China Sea on Saturday as it flew from Kuala Lumpur to Beijing and was presumed to have crashed.
There were no reports of bad weather and no sign why the Boeing 777-200ER, powered by Rolls-Royce Trent engines, would have vanished from radar screens about an hour after it took off. By nightfall in the region, there were no signs of the plane or any wreckage, some 17 hours after it went missing.
A large number of planes and ships from several countries were scouring the area where the plane last made contact, about halfway between Malaysia and the southern tip of Vietnam.
As the world reacts to the surprising fact that the plane has still not been found, many people are taking to Twitter, Instagram and Facebook to shout out their support for the still missing crew and passengers.
Day 3 and NO sign of Malaysian plane? Freaking me out? Where's Scully and Mulder? #MalasiaFlight #malaysiancrash #malasianairlines

— Cheryl Malkemus (@CherylMalkemus) March 10, 2014
No matter what race or religion, together we unite to find the missing flight #MH370. #PrayForMH370 pic.twitter.com/hD1vTawnzt

— MH370 (@MH370flight) March 10, 2014
#PrayForMH370 pic.twitter.com/xbklBDXCcu

— MH370 (@MH370flight) March 9, 2014
Philippines, Vietnam, Korea, Japan, China, Indonesia, Australia, US & Singapore. All in one mission to find #MH370. pic.twitter.com/ahyewO1QU5

— MH370 (@MH370flight) March 9, 2014
Please come back. pic.twitter.com/M7E19IGgRQ

— MH370 (@MH370flight) March 9, 2014
Why aren't EPERB's locate in the tail that dislodge at 100 ft of water mandatory on all oceanic flights? #malasianairlines @ErinBurnett

— Marty (@Tweak2010) March 10, 2014
MDP Team pray for all the people in MH379 #MH370 #mydryplanet #malasianairlines #Flight370 #B777 #PrayForMH370 # pic.twitter.com/t9YJFWEgiw

— My Dry Planet (@mydryplanet) March 10, 2014
Nothing is more bemoaning than aircraft gone missing, thoughts and prayers to passengers and families... #malasianairlines

— AbdurahmanNakshabndi (@A_Z_M_N) March 8, 2014
Malaysian students at Birmingham give support towards the family members of flight #MH370 passengers. #PrayForMH370 pic.twitter.com/uYeBc6mKTg

— MH370 (@MH370flight) March 10, 2014
Never lose hope. #PrayForMH370 pic.twitter.com/rRPIMduLo6

— MH370 (@MH370flight) March 10, 2014
For the love of football and humanity #PrayForMH370 pic.twitter.com/B9ktotXLuG

— MH370 (@MH370flight) March 10, 2014
Return if possible, flight #MH370. #PrayForMH370 pic.twitter.com/zibh6vFuLc

— MH370 (@MH370flight) March 10, 2014
Prayers for the Missing #malasianairlines #MH370 #mipk2 pic.twitter.com/EKl5N3FhqW

— MISSION IPKKND 2 (@Mipkknd2) March 9, 2014
Muslims or non-Muslims, Malaysians or non-Malaysians, we are all human. Let's unite. Keep #MH370 in our prayers #PrayForMH370

— • Anak Mummy • (@dawieyah) March 10, 2014
Day 3 is almost ending . I still choose to hope . We all still waiting for you #MH370 .Please come back safely :( #PrayForMH370

— عتيقه مزهر (@Atiqah_Mazhar) March 10, 2014
For all the detailed updates, click here