The former CIA director said he regretted the liaison with Paula Broadwell that has thrown America's national security establishment into crisis, but insisted that he did not pass her classified intelligence.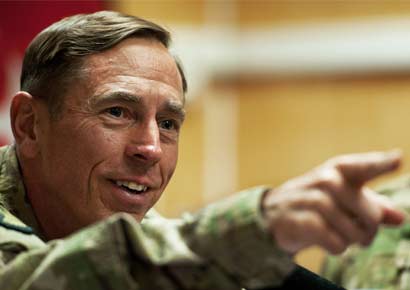 David Petraeus admitted yesterday (Thursday) that he had "screwed up terribly" by having an affair with his biographer, as he prepared to emerge from hiding to be questioned by US congressmen today.
The former CIA director said he regretted the liaison with Paula Broadwell that has thrown America's national security establishment into crisis, but insisted that he did not pass her classified intelligence.
Describing his wife, Holly, as "far better than he deserves", Petraeus said in an off-camera conversation with a television journalist that he was guilty of a "personal failing" and had "engaged in something dishonourable".
"He sought to do the honourable thing in response," recounted Kyra Phillips, a reporter for HLN, "and that was to come forward. He was very clear that he screwed up terribly".
Petraeus, who has not been seen in public since his resignation a week ago, is due to testify early this morning to congressmen investigating the September 11 attack on the US consulate in Benghazi, Libya.
The retired four-star general rejected conspiracy theories that his downfall had been engineered to prevent him from disclosing information on the attack which could be damaging to President Barack Obama.
"He said this has nothing to do with Benghazi, and he wants to testify," said Phillips. "He will testify."
This morning's hearing, by the House intelligence committee, will be closed to the public. Senior Republicans, including Senator John McCain, accuse the Obama administration of failing to provide adequate consular security despite requests from Chris Stevens, the ambassador who was killed in the attack.
They also allege that the White House deliberately misled the public by stating initially that the attack had spilled over from a chaotic protest against an anti-Islamic American film, when in fact it appears to have been a co-ordinated terrorist strike by jihadists.
Fears that Petraeus had briefed Broadwell on secret details of the Benghazi assault were spawned by the emergence of footage of a speech in which she said the attackers had been attempting to spring Libyan radicals from a makeshift CIA jail. Authorities said that this was not true and that she had misinterpreted media reports.
In his conversation with Phillips, Petraeus reiterated assurances given by Obama earlier this week "that he has never passed classified information to Paula Broadwell".
The FBI, which searched Broadwell's home in North Carolina for several hours this week, is understood to have found classified material from as-yet unknown sources on her laptop. Petraeus, 60, resigned last Friday after confessing to an affair with Broadwell, a married 40-year-old author and former military officer, which was being investigated by agents from the FBI.
The inquiry was prompted by Jill Kelley, a 37-year-old "social liaison" for the US military in Florida, who received anonymous emails warning her to stay away from Petraeus. She claims that Petraeus was simply a friend.
Kelley's complaint to the FBI led agents to email accounts owned by Broadwell, and to the discovery that she was engaged in a relationship with Petraeus. They also discovered multiple affectionate emails exchanged by Kelley and General John Allen, the commander of US forces in Afghanistan.
Petraeus told Phillips that since news of their relationship emerged, he had not spoken to Broadwell, who is staying in Washington and has had her military security clearance revoked.
An aide also claimed that Petraeus had not been following media coverage of the saga. "He wants to maintain a distance and focus on his family at this time," said Colonel Peter Mansoor.
The soap opera at the top of the US military prompted Leon Panetta, the US defence secretary, to order a review of the training in ethics given to senior officers.
Ordering General Martin Dempsey, the chairman of the joint chiefs of staff, to assess the adequacy of current ethical training, Panetta said that recent evidence of misconduct by senior officials had "the potential to erode public confidence in our leadership".
He has frozen General Allen's nomination to become Natio commander, pending the completion of a full investigation into his contacts with Kelley.