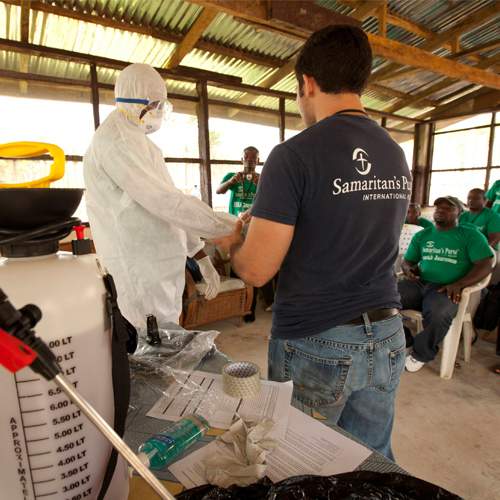 The Ebola virus outbreak has resulted in an international alert. Here is what you need to know about the situation
The virus
Ebola virus disease, (formerly known as Ebola haemorrhagic fever) is a serious and fatal illness with up to 60% to 90% mortality rate. (Read more)
According to the discoverer of the virus, a person with the infection could die in couple of weeks.
Why is it in news
The current outbreak is said to be the worst so far. This has been the longest outbreak ever that has spread in major proportions in three West African countries- Guinea, Sierra Leone and Liberia. The outbreak has occurred in major cities with dense and fluid population but fewer and poorer infrastructure and preparedness to deal with this situation. According to reports, the tendency of the locals to believe in superstition and turn to witch doctors creates more hurdles for healthcare workers to do their work.
On July 27, 2014 World Health Organization, in partnership with the Ministries of Health in Guinea, Sierra Leone, Liberia, and Nigeria declared that there were a total of 1323 suspect and confirmed cases of Ebola virus disease (EVD) and 729 deaths. (Read more)
Of the 1323 clinical cases, 909 cases have been laboratory confirmed for Ebola virus infection.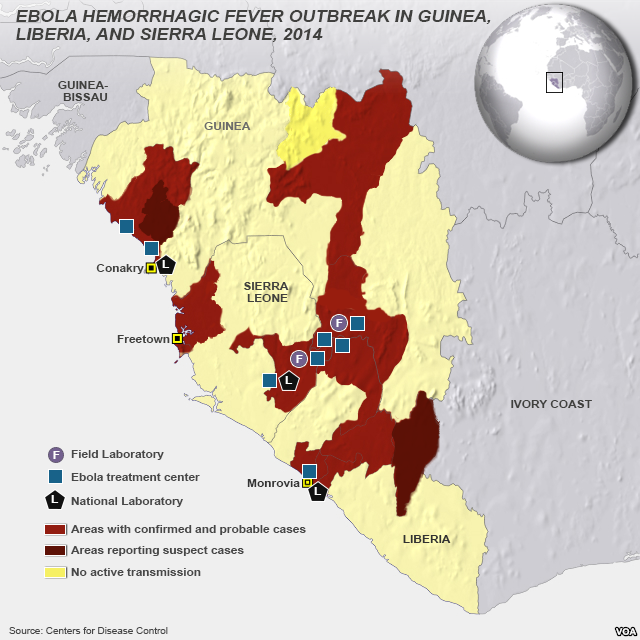 WHO says the numbers are bigger than what is being reported.
A US citizen on his way from Lagos to US died from the disease on July 29. He was in Nigeria after coming back from Liberia. Two more US citizens contracted the infection and will be reportedly returning to the US for special treatment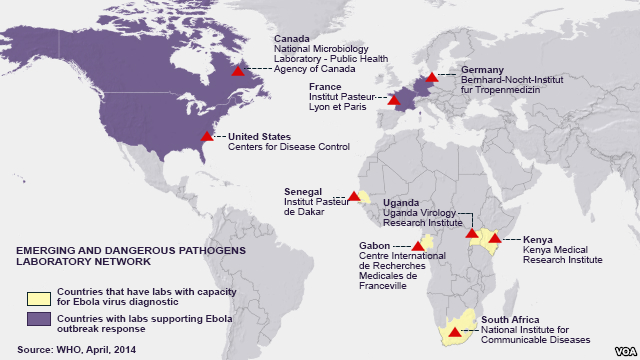 How does it spread?
According to World Health Organisation (WHO) any one in direct contact with blood, body fluids, tissues of the infected animals/persons showing the symptoms of the disease could get infected.
Exposure to objects (such as needles) contaminated with such infected bodily secretions would aslo lead to transmission of th disease.
The virus is not transmitted through contaminated air, food and water. (Read more)
Healthcare and morgue workers are at risk of contracting the virus. According to reports,at least 60 medical works lost their lives to the disease.
There is no vaccine to help in the prevention of the disease.
Signs and Symptoms
According to CDS, the following are the signs and symptoms of the disease
Symptoms of Ebola virus disease typically include:
Fever
Headache
Joint and muscle aches
Weakness
Diarrhea
Vomiting
Stomach pain
Lack of appetite
Some patients may experience:
A Rash
Red Eyes
Hiccups
Cough
Sore throat
Chest pain
Difficulty breathing
Difficulty swallowing
Bleeding inside and outside of the body
Symptoms can appear in a span of 2-21 days after exposure to the virus however most infected people show the symptoms by 8-10 days. (Read more)
Background
The Ebola virus was discovered by scientist Peter Piot during the first known outbreak in Congo.
The current outbreak seems to have started in a village near Guéckédou, Guinea, where bat hunting is common, according to Doctors Without Borders.
India too has started checking passengers for Ebola symptoms at airports, say reports.