'Bible of Cricket' justifies Pietersen's sacking * Dhawan among five Cricketers of the Year' * Tendulkar adorns cover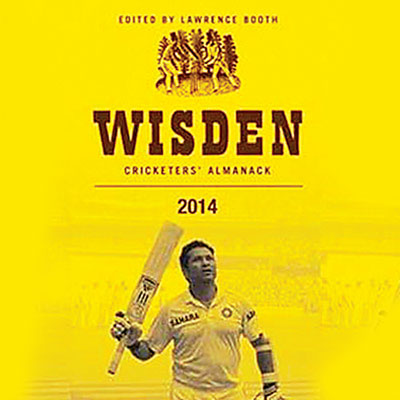 The Wisden Cricketers' Almanack, colloquially known as the 'Bible of Cricket', has launched a ferocious attack on the boards of the so-called 'Big Three' — India, England and Australia — for restructuring the International Cricket Council to, well, get richer.
"Here was colonial-style divide and rule," Lawrence Booth writes in 'Notes by the Editor' in the 151st edition of the iconic publication. "Cricket is appallingly administered, and is vulnerable to economic exploitation by the country powerful enough to exploit it and the two countries prepared to lend their plans credibility."
Under normal circumstances, England shambolic performance Down Under team would have been the central theme of the introductory passage. Not this year. "The boards of India, England and Australia had quietly crafted a document which claimed to safeguard the game's future while more obviously safeguarding their own," Booth writes. "In sum, the BCCI wanted an even larger slice of the ICC pie, and the ECB and Cricket Australia happily acquiesced, knowing their portion would grow too. The rest were assured they would be better off. And who could object to a world with more money for everyone? Here was a colonial-style divide and rule. Here was the realpolitik of modern cricket. It was hard to read this any other way: the rich would be getting a whole lot richer." As India prepare to take their "central leadership responsibility", the world of cricket "holds its breath".
There was mention of the Ashes debacle. And of Kevin Pietersen. "No sporting defeat is a disaster but 5-0 against a team that had won none of its previous nine Tests came close. This, then, was the worst result in England's history," Wisden observed.
It also backed the England and Wales Cricket Board's decision to sack Pietersen. "Cricket, some suspected, existed only as an extension of Pietersen's whims (and unlike team, cricket definitely has an 'I' in it). Emboldened by a lucrative new Indian Premier League deal, he was arrogant, attempting to bulldoze over the terms of his central contract. He was self-pitying, claiming he had never been looked after."
Meanwhile, South Africa's Dale Steyn was chosen as Wisden's Leading Cricketer in the World for 2013, a year in which he took 51 Test wickets in only nine games at an average of 17. "Fast, penetrative and parsimonious, it was some combination," Wisden said.
The Five Cricketers of the Year, an honour dating back to 1889, were India's Shikhar Dhawan, Australia duo Chris Rogers and Ryan Harris, England batsman Joe Root and England women's captain Charlotte Edwards. The Cricketer of the Year, the personal choice of the Wisden editor and an award that generally reflects performances in the previous English season, can, by tradition, only be won once in a player's career.
Not surprisingly, a picture of Sachin Tendulkar's adorns the cover of Wisden. "Tendulkar played Test matches in front of the most demanding fans in the world for 24 years," said Wisden, who compared his record with those of England captain Alastair Cook and Australia skipper Michael Clarke. "If further proof was required of just how astonishing that was, it came at Perth in December, when for a few moments one Cook and one Clarke added up to exactly one Tendulkar: 200 Test caps, 15,921 runs and 51 hundreds."