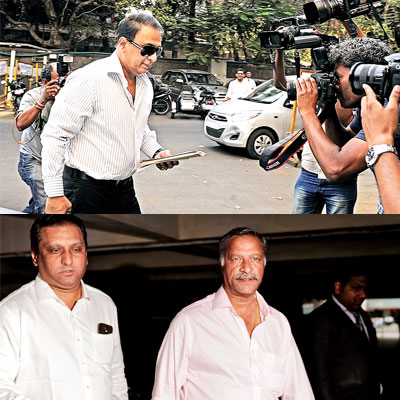 It's all getting a little too silly.
A day after the BCCI snubbed the Rajasthan Cricket Association (RCA) by not allotting a single IPL match to Jaipur's Sawai Mansingh Stadium, an all-out war of words broke out between the parties even as the Rajasthan Royals chose to stay mum.
In a letter addressed to Sunil Gavaskar, the board's interim president for IPL-related activities, RCA officiating KK Sharma expressed surprise over the board's decision to shifted Royals' home matches to Ahmedabad "without even asking us".
No one's talking about it openly, but the fact is that the RCA is paying the price for backing Lalit Modi. The founding chairman of the league has won the elections in his home association, but has yet to assume charge because the Supreme Court has deferred the announcement of the results.
"Sir, Rajasthan Royals is a Jaipur-based franchise and their home matches have always been played at Jaipur. We have done all the necessary preparations to conduct these matches and sought permission from the government of Rajasthan for the same," Sharma added.
The BCCI sent out a rather academic press release. "Hosting IPL involves elaborate planning on several fronts, logistics included. It is critical that there is surety on the availability of the match venues, for a tournament of this magnitude. The BCCI has worked with various franchises and stakeholders to get confirmations to host matches in the cities," BCCI secretary Sanjay Patel said.
He, however, added that the franchise was "happy to play in Ahmedabad". "The Rajasthan Royals have indicated to the BCCI that they are happy to play their four home matches of the India leg of the 2014 season, at Ahmedabad, to avoid any uncertainty to their home matches. IPL will continue to look at as many venues as possible to play the tournament in forthcoming seasons" Patel added.
Curiously enough, no Rajasthan Royals official — not even Twitter celebrities Raj Kundra and Shilpa Shetty, the team's co-owners — reacted to this development. But Dr Bimal Soni, deputy president, RCA, did.
"I am stunned. How can the BCCI strip Jaipur of Royals' home matches. We have written to Gavaskar," he said. When told that the Royals were happy to play in Ahmedabad, he retorted, "That's even more surprising. How could they? It's obvious that they have buckled under pressure." They obviously have. For the record, the Royals have an enviable record at 'Fort SMS'. Played: 39, Won: 29, Lost: 9 — that's a win percentage of over 76.