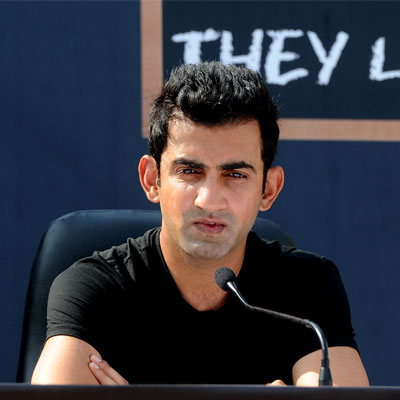 At a time when former cricketers including Sunil Gavaskar are calling for sacking of India coach Duncan Fletcher, discarded opener Gautam Gambhir stood by the Zimbabwean. Gambhir came in support of Fletcher by saying "an individual should not be blamed for team's bad performance".
"It's unfair to blame coach (Fletcher) when the entire team is not doing well," said the left-handed batsman. "An individual should not be blamed for the team's failure. Fletcher is doing a fine job and there is no need to have an Indian coach at this moment," was Gambhir's take on the recent rumblings within the cricket fraternity.
Out of the team since January 2013, the southpaw said he's mentally much stronger now than when he was omitted from the 2007 World Cup and enjoying playing at different levels. "I'm mentally tough now. In 2007, I was really hurt when I was dropped from the team after the World Cup. But, I am enjoying my cricket now and not playing for a comeback," said Gambhir, who last played for India in Dharamsala almost 15 months back.
Gambhir has matured with time and the good thing is that he is not desperate to stage a comeback to Team India through Indian Premier League. His main aim is to grind himself out there in the domestic circuit for long and make his runs advocate his comeback. "I don't want to use IPL as a platform for my comeback into the national side. I will use the IPL as a platform to do well for my side Kolkata Knight Riders.
Performing for KKR is all that is on my mind," the 31-year-old who scored 578 runs in Ranji Trophy this season, said on Wednesday.
Gambhir felt that shifting IPL matches to UAE was far better than going to South Africa because the conditions in Middle East would help Indian players do well. "UAE is a good venue to hold IPL because conditions will be similar to that of India."
With India failing to find any permanent opening partnership in the last few series ever since the Gambhir-Sehwag duo was shunted out, there is every chance that Indian selectors will have a good look at Gambhir's overseas record before selecting the team for England in June.