Australian legend turns up at Proteas nets * gives tips to spinners * rolls his arm over a few times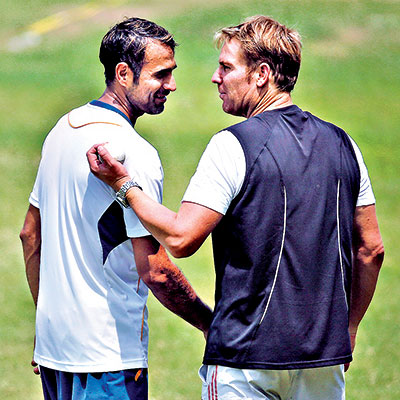 Knock Knock! Who's there? Shane Warne. Didn't they Warne you about my visit? Yeah, it was a similar experience for those at the Dhaka Academy on Wednesday.
The legendary Australian leg-spinner made a surprise visit to South African nets and was seen giving tips to leg-spinner Imran Tahir. Maybe, he was showing him how to bowl to the in-form Indian batsman when the two teams meet in the ICC World Twenty20 semifinals at the Sher-e-Bangla Stadium on Friday.
Wearing shorts and T-shirt, Warne dropped in because maybe he was getting bored at the hotel if one goes by South African team management's version.
"We were all surprised to find him at the nets. Maybe he was getting bored at the hotel and came over to have a bowl," said Hashim Amla, who was not keen on sharing more info on that.
The team media manager Lerato Malekutu seconded Amla. "We were all surprised to see Warne out here. He bowled six, seven balls. May be he was getting bored in his hotel room," she told the waiting media.
Warne stood behind the stumps watching the spinners bowl. Apart from helping Tahir with his pep talk, he also had a long chat with South Africa bowling coach Allan Donald. The buzz at the ground was that it was at Donald's behest that Warne came to nets.
The 44-year-old also rolled his arms over. He bowled a few deliveries to Quinton de Kock and JP Duminy. He bowled those flighted the ball. De Kock played all the balls with ease.
Meanwhile, Amla said South Africa have had a good preparation for the semifinal against India so far. "Yeah, the preparation has been good. Obviously, we had some time before the semifinals. We got some time to rest after back-to-back games," he said.
On having an in-form and a tougher India as opponents, Amla said: "No I think whatever you get drawn in, it's out of your hand. It's a good opportunity for us. We have played some good cricket, won some close games and that is as hard as our team has ever been."
Talking about his personal form, Amla said: "I think it's all about assessing situations of the game and playing according to it. It's not only about scoring quicker upfront but you have to see what your partner is doing," he said.
Amla on India's form said T20 is an unpredictable format. "Very difficult to say before the game. Any team can win on a given day."