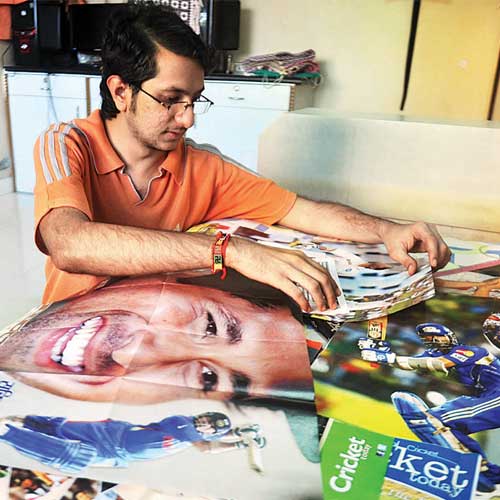 If there was a 'So You Think You Know Sachin Tendulkar's Statistics' contest, Chirag Doshi would pack a punch. The 24-year-old, who is pursuing an MBA in human resources, has compiled some mind-boggling numbers. And he's been at it since 2003.
For instance, did you know that the maestro has scored more than 18 per cent of his 15,837 Test runs in the month of December? Or, for that matter, are you aware that he just loves batting on Sundays? The numbers certainly suggest so. Tendulkar has scored 3,971 of his 18,426 ODI runs on the first day of the week. He's also picked up 33 of his 154 wickets in the 50-over game on Sundays.
"Almost every statistician can provide you with details of the number of runs Sachin sir has scored in different countries and at different batting positions. I wanted to give the cricket-loving public something different," says the Kandivli lad who has never met his idol but hopes to "after this article is published".
Doshi suffers from night blindness, but has never let the deficiency come in the way of his passion.
"I work well into the night. I just make sure my room is well lit," he says. He adores Anandji Dossa, the nonagenarian statistician, and makes it a point to visit the library named after him at the Cricket Club of India.
The Society of Cricket Statisticians of India (SCSI), the president of which is the renowned statistician Mohandas Menon, invited Doshi to attend its annual general body meeting (AGM) this year. "The kind of discussions these gentlemen have is amazing. I was honoured to be part of the meeting," he says.
"I was born in 1989, the year Sachin sir began his career," says Doshi with pride. He also collects photographs of Tendulkar from newspapers and magazines, and claims he has a collection of as many as 8,000 images including many rare ones.
Doshi has never met Tendulkar, but claims the 'God' smiled at him during the India-England Test at the Wankhede last year. "I was sitting in the Sunil Gavaskar Stand and Sachin sir was fielding right in front of us. Everyone was chanting 'Sachin, Sachin, Sachin'. Sir acknowledged our cheers and requested us to settle down. But I was way too excited. And I stood up all by myself and called out to him. He was taken aback, but he smiled at me," Doshi says with a hearty laugh.
So what will he do after his hero has retired. "I will stop following the Indian team," he shoots back. But why? "What's the point when there is no Sachin sir?" he wonders.
A few comforting words make Doshi feel better. "Actually, you are right. If I want to pursue my passion seriously, then I must continue with whatever I am doing. Even Sachin sir would expect that of me. But I really hope to meet him. I heard the Mumbai Cricket Association isn't giving away too many tickets to the general public. How can I watch Sachin sir' last Test. Or should I go to Kolkata (for the penultimate match)?" he asks.
Doshi has met Tendulkar's mother-in-law, Annabel Mehta, once. "She runs an NGO called Apnalaya. I couldn't believe she was sir's mother-in-law. She is such a simple lady with no airs," Doshi says. Meet Tendulkar and he'll say the same thing. For, the master is humility personified.
Doshi has also compiled Tendulkar's records under various captains. "He has played under nine captains in ODI cricket. Under Mohammad Azharuddin, he played in 160 ODIs and scored 6,270 runs at an average of over 45. He scored 4,490 runs in 101 ODIs when Sourav Ganguly was in charge."
If Tendulkar's final Test lasts five days, the last day of his career will be a Monday. Chirag says he would would be more than glad if his idol scores a hundred that day. Numbers and statistics notwithstanding.