The hosts beat Saurashtra by 16 runs to be in fray for All India round of T20 tournament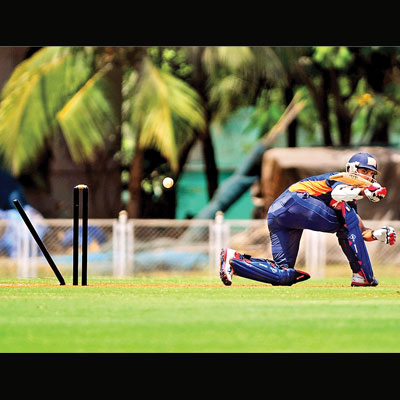 Mumbai played to their strengths – their bowling led by captain Zaheer Khan – to post their second straight victory and keep alive their hopes of entering the All India round of the Syed Mushtaq Ali Trophy Twenty20 tournament from West Zone here on Wednesday.
Boosted by 39 runs scored in the two overs by T20 debutant Sarfaraz Khan and all-rounder Sujit Nayak, Mumbai posted 145/5 after being sent in to bat. Saurashtra's inability to make the most of the Power Play overs cost them dear. The Jaydev Shah led team managed only 129/7 to leave Mumbai victors by 16 runs.
Saurashtra run chase revolved on how quickly and big their star batsman Cheteshwar Pujara scored. The Test batsman did not disappoint, scoring the only half-century of the match – 62 (60b, 7x4, 1x6). Though Pujara showed that he was capable of keeping one end steady in this format that does not give players any breathing space, he ought to come out of the Test mode and score at a brisk pace. Pujara's battle against Test pacer Zaheer Khan was an interesting feature of the match at the MCA-BKC ground. Opening for Saurashtra along with Sagar Jogiyani, Pujara was up for the task. It was a tussle between two international cricketers, one who is keen on making a permanent place in the ODI squad while the other is bowling as much as possible in matches to maintain his rhythm and be in the right frame when India next play Test in England. Before that, both Pujara and Zaheer will be eager to make an impression in the IPL for their respective franchises, Kings XI Punjab and Mumbai Indians.
Shaken by the marginal movement away from the bat in the innings' second delivery from Khan, Pujara was ready for the challenge in the same over, launching into a crisp cover drive the next ball for four and closed it with a boundary to mid-wicket. Zaheer sensed a keen contest between him and Pujara but the technically sound batsman was in no trouble at all. Not only did he see off Zaheer's second over but also settled down nicely to post a big score, playing with ease spinners and medium-pacers as is his wont.
However, what Saurashtra needed was runs at more than six an over. They scored only 19 for the loss of Jogiyani's wicket in the first six overs. They did not look like going for the kill and were content on playing out the overs.
Pujara in the middle evinced some interest. If the selectors are looking for a batsman who can stay in the middle for long and at the same time play attacking shots, they need not look beyond Pujara for limited overs. Pujara stayed at the crease for 18.3 overs, beginning to tire out towards the end of his innings. It showed in the shot he played against a Zaheer full toss, offering deep mid-wicket a catch that was well taken by Sushant Marathe.
Zaheer may have had the last laugh but Pujara returned a satisfied man, if one were to look at his individual score. But even Pujara may agree that his effort meant nothing when they did not come in a winning cause.
Earlier, Mumbai score received a boost through the sixth wicket duo of Sarfaraz and Nayak, who raised 46 runs in 2.4 overs. These included 22 from the 19th over sent down by medium-pacer Abhishek Bhat, the first three deliveries being hit for 6, 4, 6 in that sequence by the left-handed Nayak. Sarfaraz showed his eagerness to steal runs through the gaps and managed in doing so in his 20-ball knock that included four fours and a six off Jayadev Unadkat in the last over.