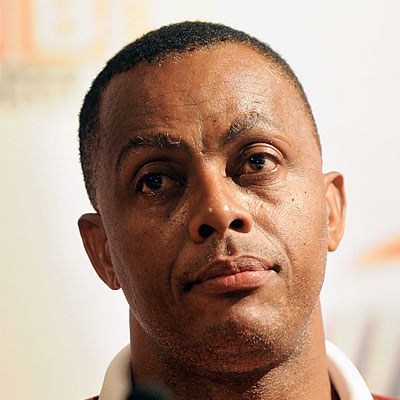 I played football when I was at school. But that's it. It started there and ended there.
I'm not a football freak but certainly a Brazilian fan. Once Brazil are in the World Cup, I cheer and support the team. No doubt about it. I have always supported the Brazilian style of football.
But, I do look around. Cristiano Ronaldo is somebody I like to see have a good World Cup. Once Brazil is playing, that is my team. If it is Jamaican team, it is nothing but the Reggae Boyz. If they are not playing, then I look further for my back up team. I wouldn't sort of give an impression that I am not supporting any team. That's my nature. But once Brazil plays football, that's me.
As for my all-time favourite player, it is Pele. Easy as it is. My favourite footballer sometimes doesn't come from Brazil. Cristiano Ronaldo is someone I look up to. I like his style of play. Even my son is catching up on him. Lionel Messi is another. Diego Maradona... You always have different players. But the team is Brazil and my favourite player is Pele.
My best World Cup moments include the ones Brazil won. They are some of my better memories of football World Cup I have had. I have seen France play very very well. Thierry Henry is one player I liked. I always follow good football. My memories of their (France's) World Cup have been good.
My preferred team don't always have to be the winner. I just like the brand of football that they (France) played. When France won the World Cup (1998), I thought they were deserving winners because they were one of the better teams and played the best football consistently.
—As told to G Krishnan