While corporate golf is on rise, decreasing number of international events is a concern and Jeev Milkha Singh remains India's best bet, writes V Krishnaswamy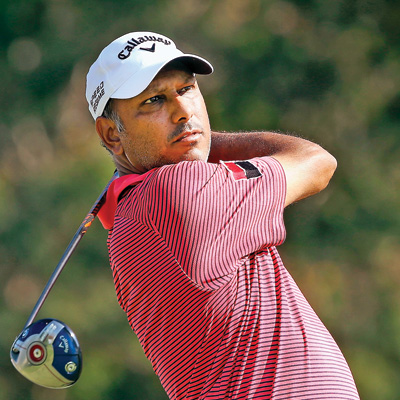 That India is a significant force on the Asian golfing scene is a given, but that is not manifesting itself at higher planes. True, Jeev Milkha Singh has won more than once on European soil — in fact three — but the others have not been able to make the transition from being stalwarts in the continent to be being potent forces on the global stage.
Playing regularly at the Majors or figuring in the top-50 of the world rankings are two distinctly measureable ways of judging golfing strength. Alas, Jeev alone make the cut in that aspect. Jeev has figured in about a dozen Majors, including being the only one to tee up at the haloed Augusta National Club, and is thus far the only Indian to have a ranking inside top-50 at any time.
A talented bunch led by Shiv Kapur, no longer the youngster he was when he won the Asian Games gold medal in 2002 or the Volvo Masters in his Rookie Year on the pro Tour in 2005, has been making noises, but not loud enough to be heard in the right places. He has kept his place fairly on the European Tour — he did dip once and fall into the lower Challenge Tour for a season, but rose back to the main Tour with two wins — but has been unable to find that breakthrough win on higher Tours.
Two young golfers, teammates from their junior days, Anirban Lahiri and Gaganjeet Bhullar, have done well to be noticed in the higher echelons. Yet, Bhullar who won five times in Asia, moved into the European Tour ranks, but has done little since. Lahiri has notched four wins in Asia and of late reached as high as 61st in World Rankings and got a call-up for Majors, too. But he, too, is yet to achieve the break through in the manner that would define him as a noteworthy star at the global level.
Then there is a bunch of other stars, young, not-so-young, old and not-so-old, who are all making a decent living at domestic PGTI (Professional Golf Tour of India) and the Asian Tours, but much more is expected of them if they have to be qualified as successful professionals at higher levels. These would includes seasoned SSP Chowrasia and Rahil Gangjee; fairly experienced Chiragh Kumar and Himmat Rai; youngsters Rashid Khan, who logged his first Asian Tour win this year, S Chikkrangappa and Khalin Joshi among others.
Of course, the 'Big Three' Jeev (42), Jyoti Randhawa (42) and Arjun Atwal (41) who have been around for a fair bit of time, were the ones who made professional golf in India cool and the 'to-go' sport in recent times.
While there are little by the way of public facilities like public driving ranges and courses that are open to walk-in golfers – some do allow on payment of Guest Fee – there are more Championship courses coming up than ever before. Till a decade ago, only the legendary Jack Nicklaus, Arnold Palmer and Greg Norman had lent their signature to designer courses other than five-time Open winner Peter Thomson who designed or re-designed a few others. But now the number of designer and Championships courses is close to 40 and counting.
Paradoxically even as the sport has thrown up a reasonable amount of professional talent, at least in Asia, there is a disturbing trend as new tournaments are becoming rare and old tournaments are disappearing.
But Corporate golf, usually held over one or two days, is mushrooming. These events feature weekend golfers who may also be prominent members of the business community. But only a few of them sponsor amateur or pro golf tournaments and the rest are there just for personal reasons. So top amateur and professionals have fewer opportunities.
Corporate events are good for business, but it does little to throw up talent in either amateur or pro golf – for that to happen there must more proper tournaments and truncated golf jamborees.
That apart a number of international events on the Indian scene have disappeared. And that has been the case on the domestic professional circuit, too. Till a few years ago, India hosted no less than five international events (Kensville Open on European Challenge Tour; SAIL Open, Panasonic Open and Indian Open on Asian Tour and the Avantha Masters on European Tour), besides the one-off Johnnie Walker Classic and the Emaar-MGF Indian Masters.
But in 2014, neither Kensville nor Avantha was held. The Panasonic Open has moved from April to November and the Indian Open will not be held in the calendar year, 2014. A tragedy indeed after 50 unbroken years from 1964 to 2013. Hopefully, it will be back in March 2015.
The silver lining amidst all this is that golf will soon be back on the Olympic programme in 2016. If the players were to be chosen today, Indians would make the grade and be among the 64 who shall qualify. Once in the Olympics, there may be more takers for the sport – ask the shooters and wrestlers!