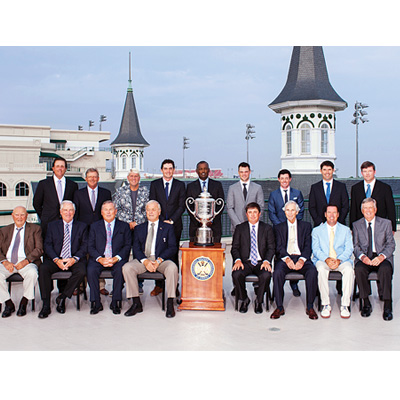 Not even the aching neck or the possibility of missing the Ryder Cup or FedEx Cup play-offs or both, could hold back defending champion Jason Dufner from hosting the Champions Dinner at Churchill Downs, venue of the world famous Kentucky Derby. The dinner on Tuesday was attended by 17 past champions though Tiger Woods was a notable absentee. The 1991 winner John Daly showed up in his flashy, multi-coloured jacket.
Dufner's four-course menu for the dinner featured fried green tomatoes with pimento cheese and jumbo lump crab, named 'Alabama Slammer'. The main course was 'Butt Rubbed' Filet Mignon. Dessert was a Gooey 'Cast Iron' Brownie that included vanilla bean ice cream with bourbon caramel. Bourbon, of course, since Louisville is Bourbon country!
For the good of society
The PGA of America Spouses and PGA TOUR Wives Association got together to build nine garden beds, called 'Garden of Blessings' to help supply healthy food to students of Engelhard Elementary School in inner-city Louisville. They did this for the second year in a row — having done the same at last year's PGA Championships.
The event is also a partnership with PGA REACH, the charitable foundation of the PGA of America, and 'Blessings in a Backpack', the national non-profit programme — now in 44 states and involving 10,000 volunteers — that was founded in 2008 in Louisville.
PGA Championships moves from August to July for 2016
The 98th PGA Championship at Baltusrol Golf Club in Springfield, New Jersey, will be held the week of July 25-31, 2016, to avoid a clash with the Summer Olympics (August 5-21) in Rio, where golf makes its return. The year is also PGA of America's centennial year. The PGA Championship will be played in July for the first time since 1968.
The dates for the 2016 British Open at Royal Troon have not been announced, but it is likely that it could be in the week preceding the PGA Championships.
The week preceding the Open will in all likelihood be the All England Tennis Championships at Wimbledon.