Riding on an imperious ton by Pujara, lesser-fancied visitors put themselves in driver's seat, lead by 320 runs with eight wickets and two days remaining.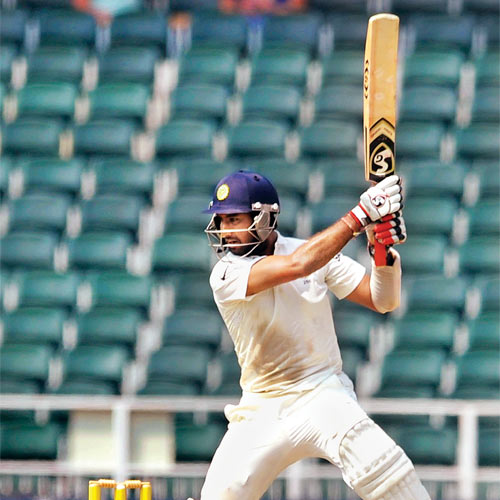 In a team bustling with 'dudes', Cheteshwar Pujara offers a throwback to the era 'bhaisahabs'. Seldom inclined to style or showmanship, he prefers to put his head down and do the job. On Day Three of the first Test, his bat didn't just talk; it screamed. And the message was auspicious: don't go anywhere; an epic Indian win is just around the corner. Oh yeah!
Among other attributes –– all of which were on display at the Wanderers on Friday –– Pujara has an exceptional conversion rate: six of the right-hander's nine 50-plus scores have resulted in centuries, putting him behind a chap called Donald Bradman and his West Indian avatar, George Headley.
Strolling onto the pitch at the fall of Shikhar Dhawan and running into Vernon Philander who had just claimed his 100th, Pujara painted a picture of composure. Once settled, he threw the veil of stoicism out of the park and emerged an aggressor we'd barely seen.
The result: an imperious and unbeaten 135, with as many as 96 of those coming in the last session. His association with Virat Kohli, himself looking good for a second ton in the match, yielded 191. The highest successful chase on this ground is 310/8, achieved by Australia two years ago. India's lead –– hold your breath –– is a delightful 320. They ended the day on 284/2.
With Dale Steyn way below his best and Morne Morkel rendered unavailable due to a horrific ankle injury at the stroke of lunch, Pujara bided his time like he always does. At one point, he was on nine off 61 balls. But as the ball got older and with the pitch easing out, he unleashed an array of delectable square-cuts and drives to keep India going.
Vijay (39) was unfortunate to be caught down the leg side off Jacques Kallis, but by consuming 94 deliveries, he'd done his job. With Pujara and Kohli in the middle, South Africa looked ineffective to the point of impotent. That AB de Villiers also had a bowl spoke volumes of Graeme Smith's woes.
Pujara's first fifty took 127 balls, but after that, he just took off. The introduction of Imran Tahir and JP Duminy only helped his cause.
In 58 minutes Pujara raced from 50 to 100 in just 41 balls, punishing the loose balls and scoring eight fours. The last of those, off Steyn, prompted him to punch the air. Why not! In the third session alone, India clobbered 175 runs in 38 overs with 21 fours hits to the fence.
Pujara spared no bowler, but was particularly severe on leg-spinner Tahir and Jacques Kallis. The Pakistan-born bowler dropped Pujara on 51. Pujara made him pay. He also hit Kallis for six boundaries and scored 37 runs off the 43 balls he faced from the all-rounder.
Earlier, a three-wicket burst from Zaheer Khan ensured South Africa added only 31 runs in the first hour of play. Zaheer dismissed the overnight pair of Vernon Philander and Faf du Plessis before claiming the last wicket, that off Morne Morkel, with a brilliant yorker to finish with 4/88. Ishant Sharma , too, completed a four-for with the wicket of Dale Steyn as all wickets fell to pace. That's a rarity too.