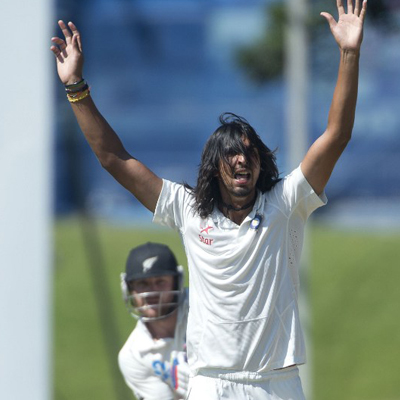 Indian pacer Ishant Sharma has revealed that he nearly quit ODIs following his omission from the Indian Twenty20 side for the recently-concluded ICC World Twenty20.
Ishant had average series in Australia, South Africa and New Zealand, and there were angry calls to drop him, to which the selectors seem to have paid heed.
"It was a setback for me when I did not do well for the country or when I was not selected," Ishant said at a Sunrisers Hyderabad function. "I think the one person who gave me confidence was my mother. At one stage, I thought I should stop playing ODIs. But my mother pulled me out of my negativities. Such support from your parents or friends gives you much-needed confidence. Now, I am enjoying my cricket, which is more important. If you enjoy your cricket and express yourself on the field, you will do well."
But Ishant is all geared up for the seventh season of the Indian Premier League (IPL), which begins April 16 in Dubai.
"I am looking forward to do well in the new season. I am bowling well. I am in good rhythm. I played in domestic Twenty20, bowled well, took some wickets. I am confident with my bowling and hopefully I will do well for the Sunrisers this time as well."
Ishant didn't find a new buyer in the IPL auction after he was not retained by Sunrisers Hyderabad, but then they bought him back for $4,00,000. The much-vilified Ishant actually formed a potent bowling combination with South African pacer Dale Steyn in last year's IPL, taking 15 wickets in 16 games. Steyn and Ishant were instrumental in Sunrisers reaching the last four.
He credits Steyn for his success in IPL last year, saying Steyn set the fields and advised him on bowling plans.
Ishant is also all praise for Darren Sammy, who he says helped him and other teammates with advice when he was sitting out the initial matches of the IPL.
Ishant believes he bowled well in South Africa and New Zealand, taking a six-wicket haul on the former tour. He is however not looking forward to the 5-test series against England just yet, as he says, ""I don't set personal goals for myself. Because in doing so you end up putting pressure on yourself. In T20 cricket one needs to react according to the situation."