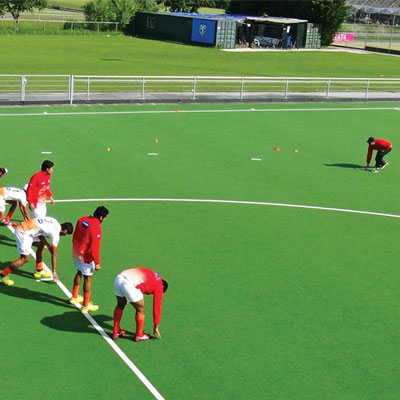 The India-Belgium opener at the 13th Hockey World Cup will pit a side looking to find its way past the misty memories of a glorious past against a country that may be on the threshold of a wonderful future in the same sport.
If India has a bunch of medals and cups from the distant past, Belgium has a growing collection of plaudits and silverware over the last three years.
Interestingly, both are looking to foreign coaches to take them to their respective goals. India has an Aussie-Dutch combine of 60-year-old Terry Walsh and 57-year-old Roelant Oltmans at the helm, while Dutchman Marc Lammers, who at 45, has an impressive list of achievements is seeking to take Belgium to where they have never been — to the podium at the Hockey World Cup.
In terms of pedigree at the World Cup, Belgium has little to show except four appearances and a best of eighth, way back in 1973, when India lost the final on penalty strokes to hosts Netherlands. Belgium were 14th in both 1978 and 2002 and in between in 1994, they were 10th. India, one of the only four teams – others being Germany, Netherlands and Spain – to have figured in each of the 12 World Cups prior to this one, has finished higher than Belgium each time.
But the world order in hockey has changed and Belgium's rise in European hockey dominated by Germany and Netherlands, has been nothing short of dramatic and Belgium is ranked fifth to India's eighth.
Lammers, who took the Dutch team to a stunning sequence of gold medals at Champions Trophy (2004, 2005, 2007), World Cup (2006) and Olympic Games (2008) has high hopes from this Belgian side.
"If we come fourth, I will be a little disappointed. We want to win a medal, but I always say that you will not win a medal if you don't focus on the game that is coming up," said Lammers.
His gem of a quote: "The beauty of this team is that they haven't won a big tournament so they are hungry."
Recent clashes between India and Belgium have tended to go the latter's way. The Belgians have beaten India three times in last five clashes, including the FIH World League finals in the clash for fifth place in New Delhi this January. At the Champions Challenge back in 2011 in South Africa they drew 3-3 with India in the league phase and then beat them in the final with a 70th minute winner by Tom Boon, who is still one of their premier scorers. India's lone notable success was the 1-0 win at the 2012 Champions Trophy in Melbourne, where India also beat a England and New Zealand but lost to Germany. India were fourth and Belgium were fifth.
Nicknamed the Red Lions, the Belgian side – which Lammers has stuck to the nucleus of the side since he took over – is rich in experience with 10 players having played more than 100 internationals
But if India has been hit by injuries, Belgium have not been left untouched as one of their star defenders who shone for his club at the European Hockey League this year, was sidelined due to shoulder injury. He has been replaced by Dorian Thiéry.
Their latest result should put them as one of the dark horses for the tournament. In the four-nation Ergo Masters tournament in Dusseldorf, the Belgians drew 2-2 with Germany and then defeated Holland 2-1 and England 3-2 to win the title.
Indian goalkeeper PR Sreejesh, who has 94 caps, said,"We will miss both Nikkin Thimmaiah and Ramandeep Singh, but it has not dampened our spirits; rather we are more determined to win. We will play to win for them as their hopes are pinned on us. The first game is critical for both India as well as the Belgians."
Schedule (all times IST):
Men: Group A: Australia v Malaysia (2 pm - Kyocera); Belgium v India (7.30 pm - Kyocera); England v Spain (9 pm - Greenfields);
Women: New Zealand v Belgium (4.30 pm - Kyocera); Australia v Korea (6 pm - Greenfields); Netherlands v Japan (11.15 pm – Kyocera)