The Nokia X was announced alongside the Nokia X+ and Nokia XL.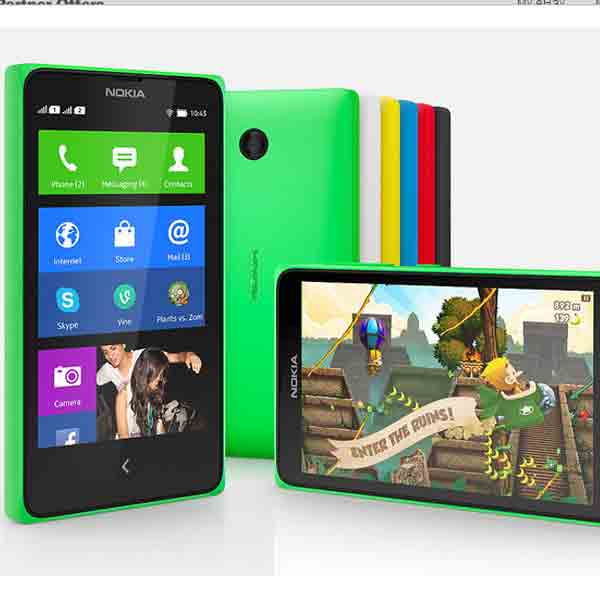 The Nokia X was launched in Mumbai at Rs8,599 on March 10.
Nokia X software platform is based on Google's Android. The online retailer has stated that the Nokia X smartphone is available from March 15, 2014 on sale.
The new platform, Nokia X, is based on the Android Open Source project (AOSP).
The Nokia X+,and Nokia XL have been announced for India as well, and will be launched within the next two months.
Watch: Nokia introduces series of android based smartphones 'Nokia X'
The dual-sim phone is power-driven by a 1GHz dual-core Qualcomm snapdragon processor and 512MB RAM with 4GB internal storage expandable up to 32GB via microSD card.
Nokia X options a 3MP fixed-focus camera and does not sport an crystal rectifier flash. In terms of property choices, the phone offers Bluetooth, Wi-Fi and A-GPS. It comes with a 1,500mAh removable battery and therefore the company claims a chat time of 10.5 hours on 3G and standby time of 28 days.
The Nokia X has a single capacitive button for navigation, unlike the three capacitive buttons on a Windows Phone smartphone.
The phone runs a extremely bespoken version of android (based on android 4.1.2) and apps as well as the Play Store. Nokia X comes with HERE Drive, Nokia's own app store, Maps for location service and Nokia MixRadio music service.
Nokia has additionally bundled Microsoft's cloud storage service, One Drive with the phone and is providing 10GB of 1 Drive storage for free, together with one month of free unlimited Skype calls to land lines and mobiles.
The negative aspect is that Nokia X users can't have access to the Google Play Store for apps. Microsoft services such as Bing search, Skype communications and OneDrive file storage.
The Nokia X is the entry-level model in the family. The Nokia X+ offers more memory and storage. Finally, the Nokia XL packs a 5-inch screen, 5 megapixel rear-facing and 2 megapixel front-facing camera.
All three devices are powered by a Qualcomm Snapdragon dual-core processor and are dual-SIM phones. A range of third-party apps comes pre-installed, including BBM, Plants vs Zombies 2, Viber, Vine and Twitter.
Jussi Nevanlinna, Nokia's vice president for product marketing, said the Finnish company is positioning the Nokia X as a bridge to high-end Windows smartphones under the Lumia brand.
Nokia is holding a Wiki Challenge to celebrate the launch of our new Nokia X software platform Nokia X device and the Nokia X software platform. Accordingly, prizes will be a Nokia X device and DVLUP XP for up to five Wiki contributors.
Articles by applicants articles will be included in the Nokia X Developer Wiki.
Specifications:
Display: 4-inch IPS LCD with a resolution of 800x480 pixels
Features: 3G, Bluetooth, Colour Screen, Dual Core, Email, External Memory, FM Radio, GSM, Gaming, GPRS, GPS, Internet Browser, MMS enabled, MP3 Player
Model: X
Weight: 129 grams
RAM: 512MB
Storage: 4GB internal, support for microSD cards up to 32GB
Operating System: Android Nokia X 1.0 Ul
Warranty: Manufacturer Warranty
Duration: 1 year
OS: Android 4.1.2. (Jelly Bean)
Camera: 3.0 MP, no front camera
Warranty Details: Repair
Colour: Available in six colours - Green, Pink, Yellow, Black, White and Blue.
Processor: 1GHz dual-core Snapdragon S4 Play
Battery: 1500mAh

Nokia X is a budget smartphone targetted at middle-class college-goers in line with Nokia Asha in the smartphone category.