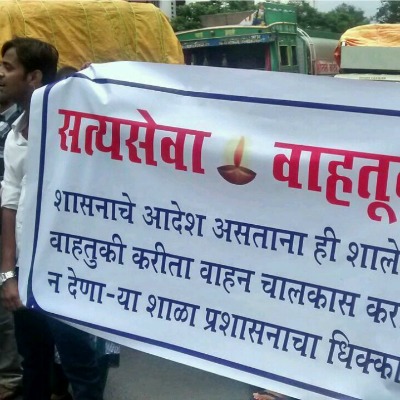 Pune : On Tuesday morning, several parents had to face inconvenience after private school bus operators who provide bus service to various branches of Rosary Schools in the city called for strike demanding that the school should sign contract with them as it has been made mandatory by the education department and regional transport office. The parents had to drop their kids to school as the school buses did not turn up to pick them up.
The Rosary School does not have their own bus transport facility and the school buses which are providing services are functioning privately. As per the school bus operators, they are finding difficult to ply their buses on road as RTO is not allowing them as they have not yet signed contract with the school.
While talking to dna, one of the private school bus operator, Yusuf Khan said that they have been asking school administration to sign an agreement with them, however, they are not ready.
"The school is refusing to sign a contract despite there is an order from the deputy director (education) office and RTO and while plying the buses, it is becoming difficult for us as RTO officials have put restrictions," he said.
He said that on Tuesday they decided to go on strike for indefinite period however the school authorities have promised a solution on this issue and said that a joint meeting of all the private school bus operators along with school administration has been scheduled on August 11.
"If the discussion does not come to any conclusion, we will again go to indefinite strike,"he said.
While talking to dna, Prasad Nalawade, the administrator of the school said that since bus operators are part of the schools, the school is not bound to sign a contract with them.
"We have already issued them no objection certificate however they are demanding a contract with the school which is not possible," he said.
One of the parent said that since school bus operator had informed in the morning about the strike, he had to come and drop his son.
He added that the school and bus operators should end the stalemate as soon as possible.
"The reason why school is not entering into any contract with the bus operators that they do not want to take any responsibility of any incident and that is why they are not entering into contract with operators," he said.