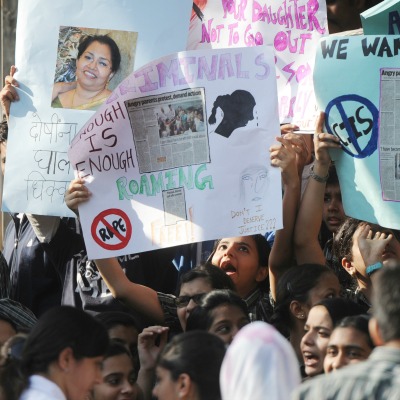 Pune: What was expected to be a small protest by a handful of parents and former students turned into a full-scale agitation at the Wanowrie-based school on Monday, after students and classmates of the 11-year-old girl, who was sexually abused and raped by a school bus attendant, joined the angry mob demanding justice for the victim.
High drama was witnessed as the parents started gathering at the school premises at 7am and agitated ex-students, exhorted parents and young schoolchildren to join them in their agitation and not attend the school on the third day of their protest.
Angry parents and students were seen carrying banners and placards. Despite the school management's promise to scale up safety measures, some of the parents said that they would withdraw their kids from the school while a few others said that they won't send their children by the school bus. To control the mob, the school alerted the police claiming that the director's daughter who works in the school might get harmed.
A teacher had claimed that the girl was characterless, which fuelled the mob's fury and some students even decided to march to her residence but they were restrained by the police.
The girl was allegedly sexually abused by the bus attendant aided by the driver on two occasions in October last year. Although the victim's parents had lodged complaints with the school authorities several times, they allegedly failed to act and instead handed over the girl's leaving certificate to them.
Following a hue and cry, the school principal and director resigned on April 9 but the angry parents and students have been demanding police action against the two for trying to hush up the matter.