'Saw people dying sans food, water as we waited in hope'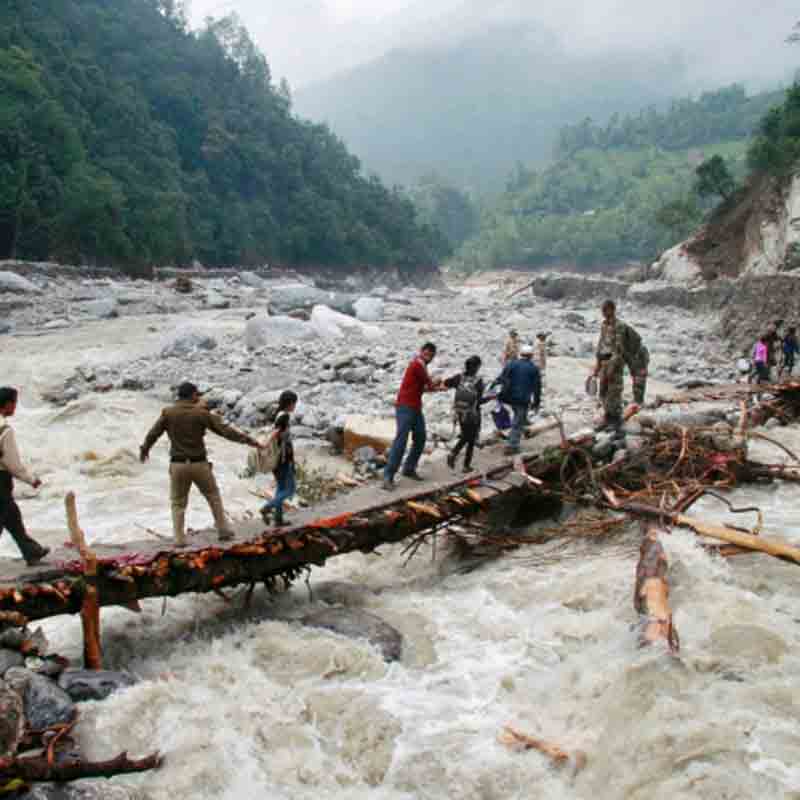 Pune: A year has passed since the Uttarakhand tragedy and the only thing left for the relatives and survivors are memories. Some of them have been able to overcome the horrific memories and some are still in trauma. Amidst that, 48-year-old Shaila Vishwas Tupe who survived this tragedy has quoted her experience in her booklet 'Mahapralaya' giving an account of those seven days, through which the state of survivors can be best, empathized. Shaila, who was stranded for seven days, separated from her husband, went through most arduous conditions which can shatter the hopes of even the strongest person on the earth. Shaila was without food and water for seven long days. She witnessed the ultimate wrath of nature, people dying around her, people turning completely into different creatures in order to survive, stealing, completely starved.
Tupe is a resident of Magarpatta city, and the couple were a part of the 16 member group who started their trip on June 10th, 2013 from Pune. Vishwas Tupe (56), her husband who works at Bharat Forge, Mundhwa said, "I saw hundreds of people being literally dragged away by huge chunks of mud, due to landslide in front of my eyes." He feels that unlike some of his co-travellers he was lucky. "I almost lost my wife for a while but I was able to find her and we somehow managed to contact our son and informed him that we might not come back." Tupe recalled the thoughts that ran through his mind while he was trapped. "I would never forget those seven days in which I learned so much about life, how a human being changes into completely different creatures, in order to survive," he said. Tupe not only starved but was also mugged. "Our valuables were stolen by people at night but that hardly mattered because our health started deteriorating, we were weak and were clinging to thin strands of hope." After the arrival of army rescue forces, the couple was taken to safety and arrangements to send them back to Pune were made. Tupe applauds the Indian Army. He said, "The army has done a great job to save so many people". She has praised the rescue forces as well as the local people mentioning specifically about a young man. In her book, she wrote, "Pankaj was serving tea and food to victims. He gave me a cellphone to contact family members. He even ensured that each of us were getting good sleep by arranging beds for us. He was a saviour at the worst time."
Shaila was finally rescued after seven long days and met with her husband which almost came as miracle.
In her book she has given an account of those who helped her in those difficult days. She has written: "Having not eaten for many days we were hoping for someone to come and rescue us out of that hell. There were only dead bodies lying around. I could only see glimpses of helicopters coming in but I had no idea whether they have come to help us or something else. Once officers started coming out of the helicopter I was assured that I would be rescued. They started helping women first, who were taken in groups of 5 at Guptakashi."
Meanwhile another surviving family is Sambhaji Vitthal Bhagat (61)and his wife Suman (54), from Laxmi Colony, Solapur road who survived the seven-day-long tragedy. "On our way to Gaurikund , we could see people dying without food and water. We spent sleepless nights under plastic sheds, which were not even large enough to protect us from the rain", said Sambhaji Bhagat.
The couple were a part of a 30-people group, who were taken to Kedarnath by a local tourism agency. Only 13 people survived.
After one year of the tragedy, Suman Bhagat said, "People who were with us, died because of cold and hunger. Every morning we would see corpses lying around us, which was the most horrific part of being witnessing something like this." While family members of those who didn't not make it feel that the government has not done enough, survivors from Pune applaud the rescue operations carried out by the government and the Indian Army however reassert the need for better arrangements.