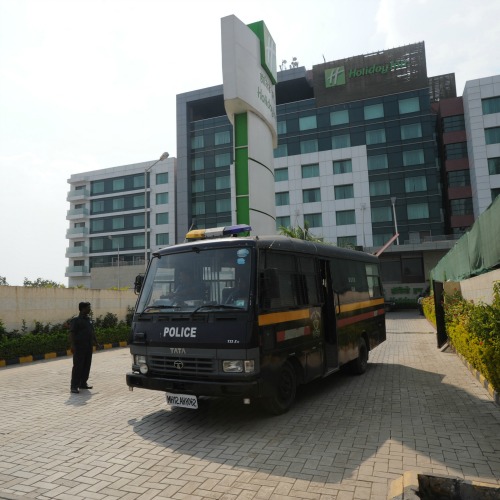 Pune: Even though, the Pune police claimed to have intensified night patrolling in Hinjewadi area to curb night robberies and chains snatching, its not helping in bringing down the night crimes. As per the Hinjewadi police record, there are 191 crime cases have been registered with police station in the last four months.
Software destination Hinjewadi is Pune's pride and enjoys information technology (IT) hub status. But unfortunately, the area has witnessed the most number of crimes in the last two years compared to other areas in the city.
As per the records, the Hinjewadi police station has witnessed an increasing crime rate over the years. Cops have registered 415 crime cases in 2011, 470 in 2012 and more than 600 in 2013. And in last four months, the police station has registered over 191 crime cases which means on an average five cases per day!
Speaking to dna, senior police inspector SP Bhosale of Hinjewadi police station said, "We have increased night patrolling in the area. Especially, our beat marshals team has been patrolling on Mumbai - Bangalore highway on daily basis."
The Hinjewadi police station was set up in 2003. Since then the police station is witnessing increasing crime rate in the area. Last year, the police station had registered 600 cases!
The robbers mainly target software professionals and commuters in isolated areas at night. They take away cash, gold ornaments and mobile phones. In some cases, they also assault the victims. Sources at the Hinjewadi police stations claimed that most night robberies have not been registered as the complainant is either working with a software firm or is a commuter of another part of the city.
The incidents are mainly reported on weekends when the people come for dinner at hotels on the highway. The suspects usually target those who are alone. They follow the victim on bikes and catch up with him in an isolated area. They halt the victim, brandish knives or pistols and relieve the victim of his valuables, said sources.
Reacting on this, Bhosale said, "We have been taking action against illegal hotels in the area. So far we have demolished seven illegal hotels of the area. It will help us to bring down the crime cases in the area."
The modus operandi of the suspects is that they come on motorcycles, halt commuters in isolated areas and relieve them of their valuables. Most of the incidents have taken place in Bhumkar Chowk, Dange Chowk, Wakad Chowk and fringe areas.
Increasing crime rate:
Year: 2011
Cases registered: 415
Year: 2012
Cases registered: 470
Year 2013:
Cases registered: more than 600
January 1 to April 15, 2014
Cases registered: 191
Modus operandi:
The suspects keep tabs on the victim noticed at roadside hotels and dhabas
They follow him on their motorcycle and target him at an isolated spot
They brandish knives or firearms
Most of the robberies are done between 9.30 pm and 12.30 am
Vulnerable locations: Bhumkar Chowk, Dange Chowk, Wakad Chowk, Chandni Chowk and fringe areas
Past incidents:
A 35-year-old businessman was looted of cash and valuables worth Rs1.24 lakh by two unidentified persons early at Kala-Khadak area of Wakad. The victim, Vijaykumar Santaram Gund, a resident of Thergaon, lodged a complaint with Hinjewadi police station in this regard.
A cab driver of a Hinjewadi-based software firm was looted by two persons at knife-point They fled with his car, a mobile phone and Rs200. The victim, Laxman Nagnath Sawant (25), is a resident of Sakharewasti, Hinjewadi.
A 23 year old three star hotel manager based in Hinjewadi area was allegedly kidnapped by four unidentified persons who had offered him lift in a car, manhandled and robbed him at sharp edge weapon to the tune of Rs 14,500 in the wee hours of Monday near Wakad octroi post in Hinjewadi area.