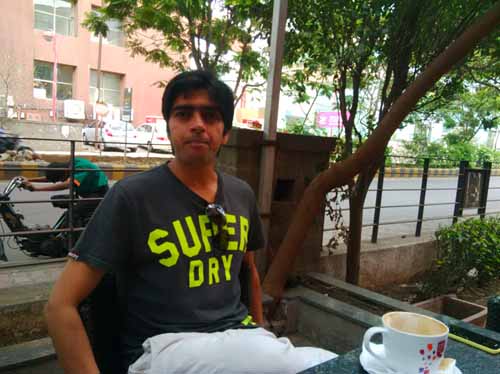 Pune: His arrest was sensational. When the Central Bureau of Investigation (CBI) sleuths picked up Amit Tiwari from Mundhwa, the local police were asked not to take any missing person complaint about him. The press release issued by the CBI was quite elaborate -- it mentioned how agencies across the world had provided inputs that led to Tiwari's arrest.
Two weeks after he was released on bail, Tiwari has a completely different story to tell.
"They are going to charge me with hacking of just one email ID of a foreign national. Just one," he points as he sits across the table sipping on a cup of coffee at a coffee shop. Clad in a black tee with neon green letterings and faded blue jeans, Tiwari fits the image of a hacker quite easily.
'CBI had arrested four hackers from Thane following a tip-off from FBI. Apparently, they were taking contracts from foreign clients for hacking into people's email accounts. During their interrogation, they spoke about someone Amit. CBI couldn't find much so they asked FBI again. I was already listed as a global hacker as I had been arrested once. They provided the details and I was arrested accordingly. But I have not hacked into anyone's account nor am I involved in any online fraud," he explains.
"If the case was really as serious as you people think it was, would I have been let off so easily? Would I not be cooling my heels in magisterial custody even now, if I was indeed a global hacker?" Tiwari asks. He says he will not say much about the case now and wants the law to take its own course.
Amit insists he has only engaged in ethical hacking and that too, in national interests. Though he doesn't want to talk much about it now, Tiwari grabbed headlines way back in 2002-2003 when he was arrested for allegedly hacking into Mumbai-based credit card processing company CC Avenue. The story was sensational- a college dropout had broken into a seemingly secure network.
"I didn't want to commit any fraud. I just wanted to prove that their system was vulnerable. I broke into their system and managed to make the payment. I thought the company would hire me but it didn't happen. Instead, I was arrested by the Mumbai police in the case," Amit says. But according to him, the arrest also brought him closer to several top officers who used his services to solve cases. He also offers documents that will fortify his claim. When dna independently tried to verify his claims, officers flatly denied knowing Tiwari. CBI spokesperson, too, refused that he was going to be charged for only one email account hacking.
Currently staying with his father, who is a retired colonel, Amit now says he will launching his own website fraudwatch.org to help people. "I will personally investigate high profile cyber cases and will put all details with evidence on this website. As the details will be open to all, the agencies can use them if they want," he says.
For Tiwari, hacking is not a crime- it's his hobby. "As long as its ethical, there's nothing wrong in it," he insists.
So how did he turn to hacking?
"I had completed my 10th and was preparing for IIT entrance exams. I used to go and sit at the cyber cafés for hours. That's when I developed this passion and I hacked into some Pakistani websites. It was fun," he recalls.
The CC Avenue case helped Tiwari professionally, he now admits. "Various firms got in touch and sought my advice in tightening their internet security. I also get private cases where people want my help to track down who invaded their systems or want to test their system strength," he says.
d_sandip@dnaindia.net