State seeks details of students.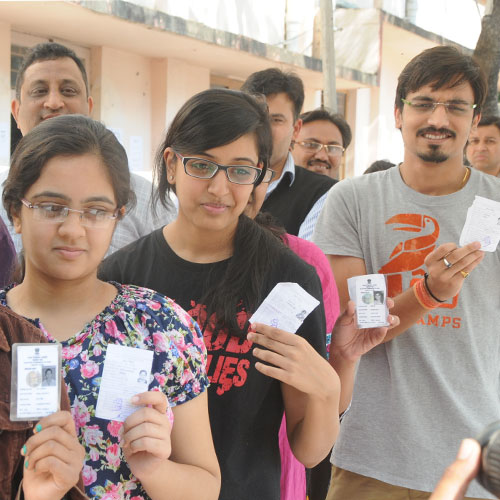 The Congress-NCP government has set its sights on Maratha votes for the upcoming assembly and Lok Sabha elections. The ruling Democratic Front government in Maharashtra has launched a statewide survey of Maratha students and sought details of their enrolment and pass percentages for the academic years 2009-10, 2010-11 and 2012-13.
In a circular issued to all universities and colleges across Maharashtra on December 19, the higher education department asked them to furnish enrolment and pass percentage figures of Maratha students for the last three years. They were asked to reply "immediately" by December 24. It is not clear how many institutes have complied with the order.
"The colleges have been asked to provide details, but it may take time as a list of Maratha students has never been compiled separately," said an official from the University of Mumbai.
On March 21, the state government appointed a committee headed by revenue minister Narayan Rane — also a Maratha — to look into the issue of reservation. The committee was asked to submit its report within three months after consulting people from across Maharashtra. The Rane-led panel has now been given an extension of six months which ends on January 10, 2014.
Several Maratha leaders, including Sharad Pawar, Narayan Rane, Yashwantrao Chavan, Ashok Chavan and Prithviraj Chavan, have been chief ministers of the state while many others have handled key ministries. A majority of educational institutions, cooperative societies, sugar mills and other industries are also owned by Marathas. However, a considerable part of the community consists of farmers whose livelihood depends on erratic monsoon. As a result, many of them have been living in abject poverty with some even committing suicides.
Legislative council member Vinayak Mete, who is spearheading the agitations for Maratha reservation for years, said: "Every political party has used the Marathas for their personal and political gain, but no one has done anything for the community. This government has also been delaying the Maratha reservation for past several months." Mete's organisation Shiv Sangram has planned a massive agitation on February 25 during the budget session of the legislature. Turn to p6
Mete, an NCP leader, has warned the government of dire consequences if it fails to address the issue. "This time, we are determined. If reservation is not given before the general and state elections, we will have no option, but to vote against this government," he said. He said the Kunbis and Marathas have roti-beti (inter-marriage) relations. "When kunbis are already under OBC quota, why not Marathas?"
Writer and historian Sanjay Sonawani, however, calls Maratha reservation "political" issue instead of a socio-economic one. "The intention of such demands is not to seek more representation in colleges or jobs, but to grab power in panchayats and other bodies which are represented by OBCs," he said.
Vote-bank politics?
Marathas constitute over 35% of the total electorate in Maharashtra. Several organisations have been demanding 20% reservation in education and jobs for the community.
In Maharashtra, there is already 52% reservation (SC, ST, VJNT and OBC) including 2% for
special backward classes, a Mantralaya official said.