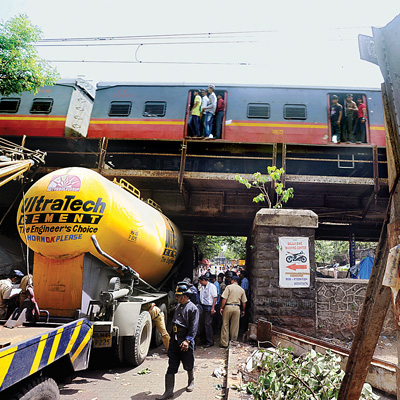 There were major traffic snarls in Matunga on Monday after a heavy vehicle got stuck below the railway bridge in Kings Circle. According to traffic police, the incident occurred on the southbound stretch near Gandhi Market at 12.46pm. Traffic movement was affected severely and the snarled vehicles were seen lined up till Sion. An unidentified street-dwelling drug addict was killed in the incident.
According to C Bhosale, senior inspector, Matunga traffic division, the incident took place on the light vehicle lane. "There is a height barrier installed there. When the vehicle hit the barrier, a small portion of the metal broke due to the impact and hit the street dweller, who was seated below the bridge."
The driver of the cement-mixer then fled the spot leaving the vehicle behind. The police was informed and the injured man was rushed to Sion Hospital where he was declared dead on arrival.
"We had to divert the traffic as the incident occurred a few meters away from Matunga flyover. Motorists were forced to take the lane below the bridge. A hippo crane had to be called, and it took over an hour to remove the cement-mixer from the spot. It took more than two hours for the traffic movement to become normal," a traffic officer said.
Matunga police have registered a case under section 304-A (causing death due to negligence) against the driver, and are are trying to trace him.