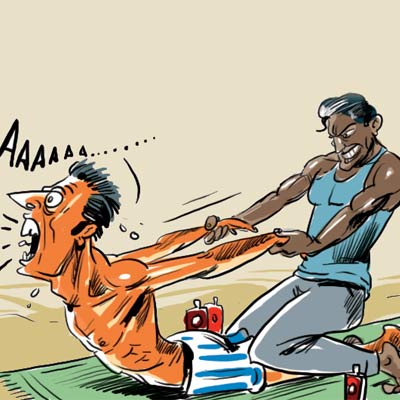 In a span of four weeks, at least four people have landed in a private hospital with fractured body parts after they visited masseurs. Most of them had only suffered only sprains, but their problems took a turn for worse following the crude treatment.
Dr Aashish Arbat, orthopaedic surgeon, Fortis hospital, said: "All the four patients had simple ankle sprain. Instead of showing it to a doctor, they preferred to take help of their local maalishwala."
The doctor said that in all these cases, the patients lost three months of working hours. "One of the patients who works in telecom company had come with huge swelling in his left leg. On inquiring we found that he had visited the local maalishwala and had got a massage," said Dr Arbat.
An MRI scan showed that the person's muscle that pulls the foot upwards while walking had ruptured and the whole region had swollen up. "We operated on him and repaired the ruptured muscle. He will need bed rest for three months," said Dr Arbat.
Dr Nikhil Iyer, orthopaedic surgeon at Chembur's Joy hospital, said that geriatric population and people with sedentary lifestyle are more likely to suffer damage at the hands untrained masseurs. "The 'breaking neck' method used by the masseur is very risky as three of patients had suffered cervical cord dislocation. This can be life threatening too."
Dr Iyer said that the commonest injuries that they see is muscle strain due to excessive pressure, occasional rib fracture. "Shoulder injuries are most common in people having sedentary lifestyle," said Dr Iyer.
According to doctors, people should use ointment or spray to deal with sprains . "Vigorous rubbing is an old method. Too much force while massaging should be ignored. In case of severe pain, one should visit the doctor," said Dr Pradeep Bhosale, head of orthopaedic department, KEM Hospital.