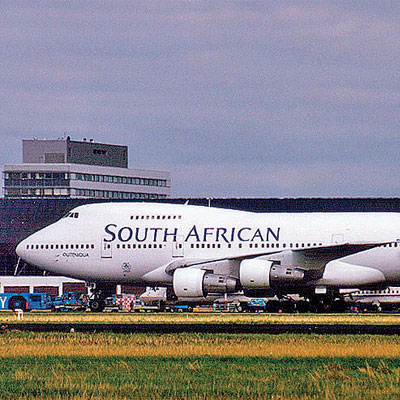 Passengers travelling on South African Airlines to Johannesburg had to face a lot of inconvenience after a tyre of the aircraft burst while taxing towards the runway minutes before take-off at Chhatrapati Shivaji International Aiport in the wee hours of Thursday.
Sources said the incident happened on flight SA285 around 1.35am, when they heard a huge blast while the plane was on its way to the runway.
"There was a big blast moments after the airplane started moving towards the runway. We were told that one of the tyres had gotten punctured. We thanked our stars that it didn't happen while it was on the runway for take-off," said Dr Narendra Shah, eye surgeon from Bombay Hospital, and one of the passengers.
According to Shah, the officials were struggling to arrange for a new tyre as they didn't have a spare one. "We were seated in the plane while the officials struggled to get spare tyres. They finally managed to get one from Lufthansa and one from British Airways around 3am. Given the delay, I decided to cancel my plans as I wouldn't have reached on time for my meeting anyway," he added.
Sources within the airline, however, claimed that they have an agreement with other airlines for providing tools and engineering services as per the laws mandated by the Directorate General of Civil Aviation (DGCA).
"South African Airways follows all the rules and regulations prescribed by DGCA for carriers flying to India. As such, we ensure proper maintenance of our aircraft. One of the tyres of flight number SA285 got damaged while it was taxiing and had not yet approached the runway. The plane was then taken to a remote bay following all prescribed measures, where the maintenance team replaced the tyre. We thank our passengers for their patience and faith in us," said Sajid Khan, country manager – India, South African Airways.