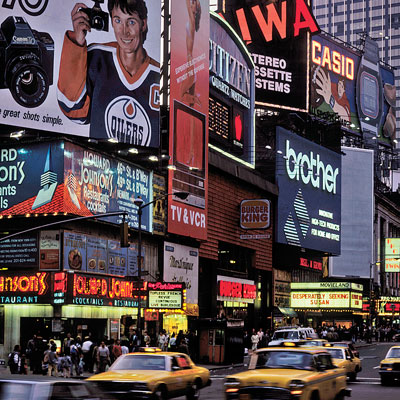 If everything goes according to plan, you might soon have a Times Square-like entertainment zone near the famous Fashion Street in South Mumbai. A proposal on this has been prepared by the state tourism department and send to city traffic police for the requisite approval.
"Once we get the approval, the system can be put in place," said a senior official in the Maharashtra Tourism Department Corporation (MTDC).
Times Square, which is a major intersection at upmarket Manhattan area of New York, is a brightly illuminated busy pedestrian area and a major centre for the global entertainment industry. According to an estimate, more than 131 million pedestrians pass through the place annually, bringing in around US$4.8 billion in revenue.
"We can easily have a Times Square-like place near Fashion Street covering around 500 metre of street and promote tourism during weekends when most of the offices in the vicinity are closed," added the official. Mostly commercial and government buildings occupy the region around Colaba and Churchgate with the number of residential apartments few and far between.
As per the plan, the road near the VSNL building junction would be closed to vehicular traffic from Friday evening to wee hours on Monday by putting up detachable steel poles meant for barricading. During this period traffic would be diverted through alternative routes.
MTDC source said the garment stalls on Fashion Street, which are already an attraction for college students, would remain as they are. However, open sky eateries, tattoo centers, photography cubicles, and other entertainment stalls could be added. Also, high resolution advertising screens could be placed, through which the tourism department can earn money.
BK Upadhyay, joint commissioner of police (traffic) was not reachable for comment despite repeated attempts.