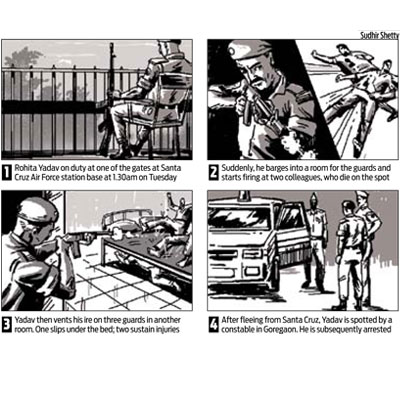 Two security guards were killed and two others injured after a Lance Naik of the Defence Security Corps (DSC), a unit of the Indian Air Force, in a fit of rage began firing indiscriminately at them with his service rifle around 1.30am on Tuesday. The incident took place at the Air Force station base in Santa Cruz (East) when the suspect, Rohita Harisingh Yadav, 49, was on night duty at one of the gates.
Yadav fled from the spot after firing at his colleagues, but was later arrested near Vanrai area on Goregaon (East). The police said Yadav was angry because his colleagues and group commander, HR Singh, used to physically assault him. "I used to ignore it earlier, but when he abused and assaulted me this time, I was very angry," Yadav told the police during interrogation.
A native of Rajasthan, Yadav retired from the army 12 years ago. He then joined DSC and was posted at the Santa Cruz Air Force station for the last three years.
The police said there were seven guards inside the compound when the incident took place. While Yadav was guarding one gate, there was another guard on duty at the other entrance and five others were sleeping in two guard rooms, a few metres from the main gate.
Around 1.30am, Yadav barged into the guard room where two guards were sleeping and started firing at them. Both his colleagues died on the spot. After this, Yadav entered the other room and opened fire at three others. One of them slipped under the bed, but the other two sustained injuries on their legs. "One of them, Bhimsingh, managed to snatch Yadav's rifle from his hands," the officer said.
While the guards were in a state of shock, Yadav took an auto and went on the Western Express Highway towards Borivli. The Nirmal Nagar police, meanwhile, sounded an alert across the city. "Yadav got off on the highway near Vanrai and was walking when constable Sachin Varate noticed something suspicious. After questioning Yadav, Varate brought him to Vanrai police station," said Namdev Chavan, deputy commissioner of police (Zone VIII). He was later handed over to the Nirmal Nagar police.
The police have booked Yadav under sections 302 (murder) 307 (attempt to murder) of the Indian Penal Code and 3 and 25 of the Arms Act.
The deceased have been identified as Somdutta and HK Singh while the injured, TB Thapa and Bhimsingh, have been admitted to the Navy Hospital, INHS Aswini in Colaba. Vijendra Singh survived the firing and escaped unhurt. The police said investigations are on and that the statements of eyewitnesses are being recorded.