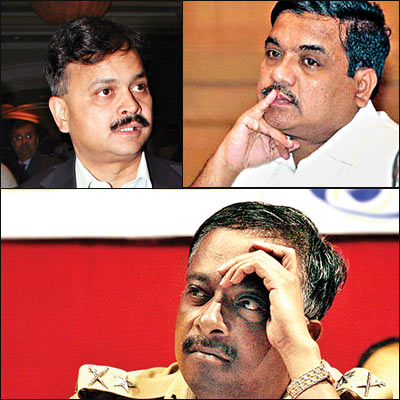 After reports of two senior officers — Vijay Kamble and Javed Ahmed — being miffed at not being considered for the post of Mumbai's police commissioner, home minister RR Patil tried to airbrush the controversy, claiming there were no grounds for them to feel discriminated against.
On Friday, the state government had decided to appoint ATS chief Rakesh Maria to the top post.
Patil said that while the police establishment board had submitted three names — Kamble, Maria and ADGP Satish Mathur — for the post, the state government also had the power and authority to select a fourth name, as has been done in the past. He added that no official had expressed discontent with them and there were no grounds for them to be miffed.
Patil pointed out that the police commissioners for Mumbai, Pune, Nagpur and Thane were appointed from the additional director general of police (ADGP) rank and these appointments were made on the basis of the time remaining for the officers to retire, their previous work experience and the challenges before the city, instead of mere seniority.
He stressed that Maria's appointment had been done considering the security challenges before Mumbai and said that if those who had not been appointed to the post felt they had been meted out injustice, it was wrong.
Patil also denied reports of political pressure playing a role in the appointment and added that there was no scope for caste and religious considerations in the police force. He added that the appointments had been effected considering the apex court's directions regarding police reforms.
The state government has passed the Maharashtra Police (Amendment) Ordinance, 2014, and re-constituted the police establishment board. The transfers had taken place immediately after the board had been activated.