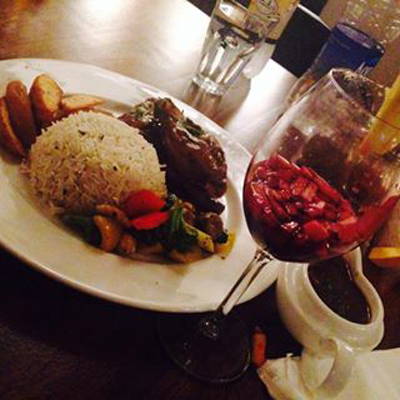 In the midst of the busy, populated streets of Andheri West, just on the main road lies 015's cafe. It stands apart from the other restaurants in the area with it's striking red telephone booth, in which you can dine. It shares it's spot with another prime restaurant 'Some Like It Hot'. Compared to its neighboring restaurant it was much louder and livelier, as it had its karaoke night on (which it has every Wednesday). The moment we entered, our ears were flooded with loud voices and giggles, of a young crowd dancing and enjoying their Bollywood and Hollywood karaoke night. Besides the karaoke night the restaurant usually has loud hip hop music, much appreciated by frequent visitors. It's easy to conclude that if you are looking for a quite peaceful dinner, perhaps this is not the right place. For a fun filled evening and a chance to dance and sing, perhaps you have hit the right spot.
Ambience: Great!
The prime attraction for this restraint would be the desire to dine in a telephone booth. The whole setting gives a good English Rock vibe. Besides that it has beautiful red brick walls with guitars and Michael Jackson posters resting on them. Another interesting aspect would be these tall black walls with cocktails and their ingredients painted on them. The lights are on the dimmer side creating an atmosphere which is rather dull, in contrast to its loud music. It has projector facilities for on going music videos, and at the other end for live sports matches like the current Indian Premier League. However a combination of two is quite a chaos. For smokers it has a separate glass section outside the entrance, it is shared with 'Some Like It Hot'.
Food: Good, could be better...
Great spread of European, Continental, Chinese, Thai, American, North Indian on the Menu. The food overall is a mixed experience, some dishes are exceptional while some lack in taste and preparation. The recommended dishes that were served included Afghani mushrooms and Chicken Basil Tikka for appetisers which were indeed exceptional. For main course the recommended dish Penang curry rice was a scrumptious delight. While the recommended non vegetarian main course Nasi Goreng was a disappointment. It was bland and only tasted better after a lot of schezwan sauce being poured in. While not recommended the enchiladas , were horrible, they tasted more like a Biryani then a Mexican dish the flavours were all wrong. Besides that the temperature and appearance of the food was good. The portion size, extremely generous for its price.
Must Have:
Afghani Mushrooms
Chicken Basil Tikka
Mushroom Stroganoff (pasta)
Green Pesto (pasta)
Prawn Skewers
Must Avoid:
Enchiladas
Drinks: Interesting
A place for drinks over food. The drinks menu was quite elaborate in terms of its cocktails and mocktails. Unique combinations of drinks were available. The beer was also well priced. A kingfisher draught pitcher for simply Rs. 300, which seems like a good deal. They also had specially tailored drinks for the Indian Premier League season.
Service: Good Job!
The service was an overall good experience. The service was prompt. The waiters were very attentive and seemed happy to help. They too seemed to be dancing around with the music. The karaoke in charge was extremely friendly to all the customers. They were aware of what to push forward and what to avoid. Quick in filling up even your glasses of water.

Price: Reasonable for a group
Average meal for 2: Rs.800/- (excluding alcohol)
Here is a snapshot of our meal: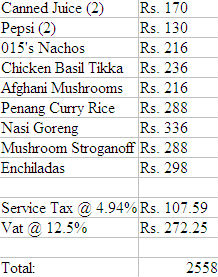 Overall Rating: 3.5/5
Address: 1st Floor, Rear Entrance, Mohit Height Tower, Near Gyan Kendra, 4 Bungalows, Andheri West, Mumbai