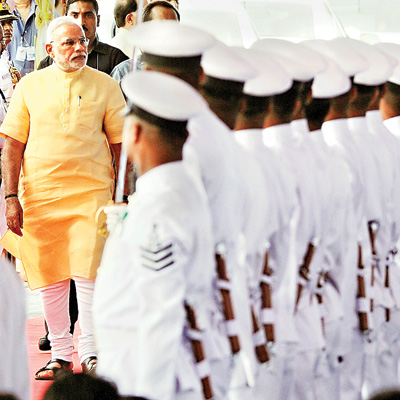 Prime minister Narendra Modi inducted latest warship Indian Naval Ship Kolkata into the Indian Navy on Saturday at the Naval Dockyard.
What did Modi say?
At the commissioning ceremony, Modi motivated the men in uniform by saying the entire nation may not be in uniform but everyone stands firmly behind them and is proud of them.
"Fighting a war and winning it has now become less difficult. But a modern military, armed with state-of-the-art weaponry alone is a guarantee against war," said Modi.
He added that India doesn't want a war, but it has to be alert. INS Kolkata will ensure safety of Indians.
"When we are capable, no one can dare challenge us," he said at the commissioning ceremony. The prime minister also emphasised the need to develop indigenously built defence equipment apart from having the capability to export them.
About the warship
The 6,800-tonne stealth destroyer has been constructed by Mazgaon Dock Limited. Keel of the ship was laid in September 2003 and was launched in 2006. The warship got ready three years after its scheduled deadline.
What are its technical specifications?
Regarded as the most potent warship to have been constructed in India yet, the ship is 164 metres in length and approximately 18 metres in width and has a full load displacement of 7,400 tonnes. The ship has a Combined Gas and Gas propulsion system consisting of four powerful reversible gas turbines, and can attain speeds in excess of 30 knots.
The ship's electric power is provided by four gas turbine generators and one diesel alternator, which together produce 4.5 MW of electrical power, enough to light up a small town. The ship has a complement of 30 officers and 300 sailors.
Others to follow...
INS Kolkata is the lead ship of its class, the follow-on ships will be INS Kochi and INS Chennai.