Drug authority issues notices to Wockhardt's three plants in Aurangabad and seeks explanation on poor compliance with good manufacturing practices.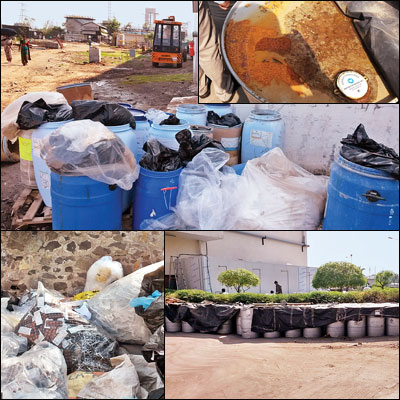 Biomedical waste dumped openly, rusted drums containing glycerine — used in making injections — lying unused for months, proliferation of insects, rodent excreta which raises a stink and storage of raw material in rusted barrels. The entrance of Wockhardt Limited's three pharma plants in Waluj and Chikalthana villages of Aurangabad district in Maharashtra resembles nothing less than a dumping ground.
State Food and Drug Administration (FDA) officials issued show cause notices to the three plants last week and sought an explanation about the poor compliance of good manufacturing practices (GMP) by Wockhardt. The company did not respond to repeated queries by dna.
Last December, the FDA instituted a three-member special investigation team (SIT) comprising drug inspectors from Ahmednagar, Solapur and Mumbai to inspect the three pharma plants. The US-FDA has already banned export of medicines from the three Wockhardt plants to American markets after its investigators submitted reports last year, citing alleged malpractice there.
"Maharashtra FDA officials have sought an explanation as to why good manufacturing practices are not being followed," said a source from Wockhardt Limited.
The SIT constituted by FDA made appalling discoveries in the plants which violate the Drugs and Cosmetics Act, 1940. dna has copies of the notices which state that the entry to the main corridor area of the plants is laden with live insects, dust and rodent excreta.
Sources said the team noticed the absence of a scrap yard to dump industrial waste. Used gloves and medicine packs were lying in the open. "Empty trial tablet packs, which are produced to check packaging norms, were dumped in the open. The packs can be easily stolen and illegally recycled to be filled by spurious medicines," an FDA official from the inspecting team said.
The SIT noted that up to 114 rusted drums containing glycerine, used in making injections, were lying outside the plants. Also, 5,000 vials of Agar gel, which is used as media for culture in injections, was lying in the open. "It is an ideal breeding ground for the uncontrolled growth of microorganisms, threatening contamination of the atmosphere," the official said.
The team further noted that Wockhardt had not made separate provisions for storage of hazardous material – Hydrochloric Acid, Glacial Acetic Acid, Ammonia and Acetonitrile. "There was no easy access for immediate first aid such as water shower or eye washer in case of an accident due to improper storage of hazardous material," the show cause notice states.
Several machines, including a pass box and a mobile booth, were lying unused in the manufacturing plant. "A pass box is a contraption which involves passage of raw material to the manufacturing area under strict sterilised atmosphere. But the material was being transported manually. A mobile booth weighs and suspends raw material powder for manufacturing under decontaminated atmosphere. This too was lying unused," another FDA official told dna.
Each plant produces over 100 types of medicines, including tablets, capsules, liquid oral syrups and insulin injections for domestic and export supply. Medicines from the plants are exported across Russian, Middle East and European markets.
State FDA commissioner Mahesh Zagade confirmed that the show cause notices were issued and that Wockhardt has been asked to respond in a week. "If the drug inspectors find that the plants are not stepping up their compliance level, further action of suspension or cancellation of manufacturing licence may be initiated," he said. "The drugs supplied in the Indian market need to be of excellent quality to attract international business and foreign exchange. Over 40 per cent of the medicines being produced in Indian plants are exported abroad. We need to be wary of faulty practices."
Shares of Wockhardt Limited closed at Rs444 apiece on the National Stock Exchange on Thursday, down 0.97% from the previous close of Rs448.35.
In November 2013, the US-FDA issued a ban against Wockhardt's Chikalthana plant. It had already imposed a ban on the company's Waluj plant in May. Subsequently, Wockhardt reported a 29 per cent drop in quarterly net profit. Its sales dropped significantly as it was not allowed to sell its drugs in US markets. Wockhardt's net profit in the third quarter too fell to Rs304 crore from Rs428 crore a year earlier.
(With inputs from Ashish Tiwari)