ATS chief Rakesh Maria, ADGs Vijay Kamble and Ahmad Javed are the top contenders for the coveted post.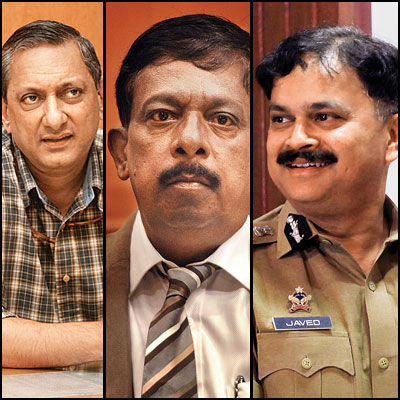 The new Mumbai police commissioner will be decided in the next two days, said chief minister Prithviraj Chavan.
Talking to dna on Saturday, Chavan said the government was in the final stages of finalising the name of new CP. "Temporary charge has been given to Hemant Nagrale, joint CP (administration). The new CP will be declared in the next two days," Chavan added.
After the voluntary retirement of Satyapal Singh, the post had become vacant. Additional director general (ADG) of police (state traffic) Vijay Kamble, chief of the anti terrorism squad (ATS) Rakesh Maria and ADG (law and order) Ahmad Javed are the top contenders for the coveted post. Besides the high-profile post of the Mumbai CP, the post of the director general (Home) is also lying vacant.
"The Congress and the NCP have been vying with each other to appoint their 'own' men. And as a result, the appointment and promotion of high ranking police officers have been hanging fire. The government now has no option but to appoint someone," said sources on condition of anonymity.
They added that the chief minister would declare the name of the new Mumbai CP only after consultation with NCP chief Sharad Pawar.
Others in the race include ADG (Establishment) Satish Mathur, Thane commissioner K P Raghuvanshi and ADG (Prisons) Meera Borwankar. If seniority is the criteria, Vijay Kamble stands to gain as he is the senior-most ADG in the state. Javed has already been empanelled as a DG, and is likely to be promoted.
"Kamble and Maria are top contenders. Kamble has handled important posts like that of the Mumbai traffic chief and Navi Mumbai commissioner. Maria has a strong track record. Apart from successfully handling the 1993 serial bomb blast case, he has been the railway commissioner, chief of the elite Mumbai crime branch and is now heading the ATS. It remains to be seen whether seniority, closeness to powers that be, or track record emerge as the chief consideration in the selection process," said sources closely monitoring the development.