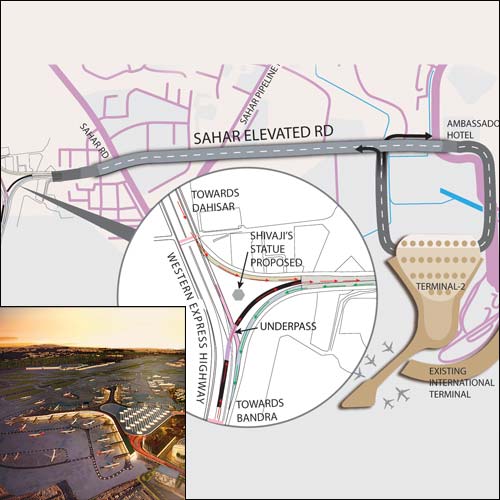 The countdown to open Sahar Elevated Road for motorists entering and exiting Chhatrapati Shivaji International Airport's (CSIA) new Terminal 2 has begun.
Prime Minister Manmohan Singh will inaugurate it on January 10. Jointly implemented by the Mumbai Metropolitan Region Development Agency (MMRDA) and Mumbai International Airport Private Limited (MIAL), the 3.3km road connects Western Express Highway and CSIA.
"The elevated road was planned as there was no direct access to the international airport.
Fliers will now have easy and quicker access to the international airport," said Dilip Kawathkar, spokesperson of MMRDA.
"The construction faced many hurdles such as resettlement and rehabilitation of project-affected families, non-availability of land from government departments, difficulties of diversion of traffic as well as underground utilities. Also, the construction work had to be carried out only during restricted working hours as the construction site is near the runway," he added.
The road has two lanes on either side joining the elevated road from southern and northern side. Three lanes from Terminal-2 will open towards southern and northern side through the Western Express Highway.
After the opening of the new terminal, the existing airport terminal will be demolished to expand the new airport terminal.
The bridge deck has planters on either side for plantation of palm trees and shrubs, probably the first time in India. This will give a pleasing driving experience to the motorists.
The construction work for the project began in January 2008 and was scheduled for completion after two years in January 2010.
The construction cost for MMRDA was earlier estimated to be Rs287.37 crore, which shot up to Rs377.59 crore.
1,300m is the length of the elevated road connecting WEH to the international airport
45m is the length of pedestrian and vehi-cular underpass on Western Express Highway in Vile Parle
48m is the length of MIAL underpass on Justice MC Chhagla Road
98.5m is the length of the vehicular underpass below Western Express Highway. It has 26.2m ramps on either side of the WEH for the traffic coming from the southern side and going to the international airport.