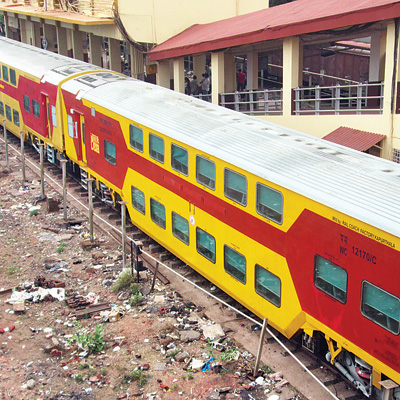 It's official. The first ever double-decker service set to run between Mumbai and Goa starting today is a royal flop. As of late Thursday evening, just 135 out of 960 train tickets had been sold.
The Mumbai-Goa double-decker premium service will leave Kurla LTT at 5.30 am today, departing from Thane at 6.02 am, reaching Panvel at 6.50 am and terminating at Karmali, Goa, at around 4.30 pm on the same day.
CR officials had second thoughts
In its August 19 edition, dna had highlighted how Central Railway officials did second-guess the idea after just 100 tickets had been sold. The booking for the first trip had opened on August 16.
"It is very unfortunate that the first double-decker train is such a flop. There was a huge buzz about the train for almost a year now and now when it is all ready to run, there are hardly any takers," said a senior CR official.
What went wrong?
Officials said that the poor response had once again highlighted the fact that New Year and not Ganpati should have been the ideal time for the services to begin. "A New Year traveller wouldn't have minded paying premium prices for the train. The Ganpati traveller is more middle-class and generally shifts between state transport buses and sleeper seats," said the official. (Each air-conditioned chair car ticket costs Rs 1,055) Some said that the "booking only on internet" rule for premium trains might have scared some of the less computer-savvy travellers.
Poll sop gone wrong
As reported earlier by dna, the railway ministry has pulled out all stops for poll-bound Maharashtra. It not only introduced double-decker and Shatabdi special premium trains on the route, it also gave special permission to CR and the Konkan railways to have more than the stipulated five halts for a premium train. These trains will make seven stops, said officials, in a bid to pick up as many passengers as possible.
Impact on Christmas rush
The poor start to the railway's strategy of saturating the Mumbai-Goa route with premium special trains might now have an effect on its plans during the Christmas and New Year holiday season, said CR officials. "Hopefully the railways does not develop cold feet and not deploy so many trains on the Mumbai-Goa route during the Christmas/New Year holiday season," said officials. However some officials are still holding out hope that in the coming days, ticket sales for the 50-odd premium services deployed this time around will go up.