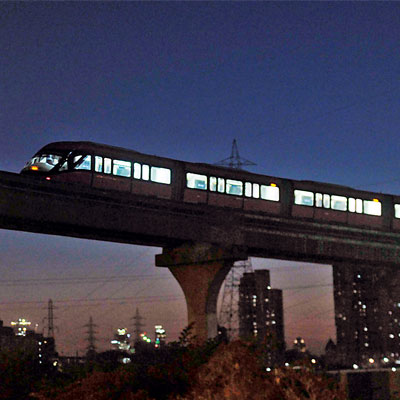 An average of 130 passengers travelled on each trip of Mumbai Monorail on Tuesday, the first day of the extended operational hours, as compared to an average of 328 on its first day of public operations on February 2.
The ridership on Mumbai's latest transportation system is constantly taking a dip. In the last week of February, an average of 195 passengers had used the monorail on each trip.
On Tuesday and Wednesday, the commuters were a combination of joyriders as well as regular passengers.
On Tuesday, a total of 115 monorail trips were made to ferry 15,016 commuters between 6am and 8pm — the extended operational time. Till Monday, the system was being operated for eight hours, between 7am and 3pm.
The dipping footfall also translates into reducing revenue earned by the operators. On Tuesday, an average of Rs1,151 was earned from ticket sales for each trip as against the operation and maintenance input cost of around Rs3,500 on each trip.
As per the break-up available, maximum commuters boarded monorail at Chembur (5,329 passengers) and Wadala depot (3,636 passengers) stations and the least number of passengers took the monorail at Mysore Colony (775 passengers).
"In all, 14,686 tokens were sold along with only 22 monorail smart cards. The rest of the 308 commuters travelled on the smart cards purchased previously," read a statement issued by the Mumbai Metropolitan Region Development Authority (MMRDA).