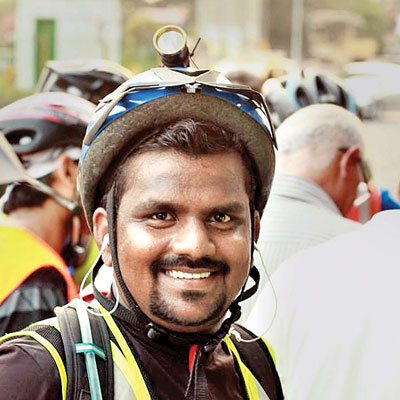 A 28-year-old cycling enthusiast, who left home pedalling to work on Tuesday morning, has gone missing, prompting the cycling community to launch an online campaign and a search operation. His family has also lodged a missing person's complaint.
A resident of Malwani in Malad, Rahul Magar works as a corporate relationship manager with Bharti Airtel and his office is located on Malad Link Road. While his last call was traced to Vasai around 11.30am, his phone remained switched off after that. Rahul was riding an MTB-Axis A90 model.
Rahul's father Surendra said his son had informed his colleagues that he would be reaching office in 15 minutes.But everyone panicked after he didn't reach the workplace for a long time, Surendra said.
Nitin Magar, Rahul's brother said the latter has been cycling for the past two years and has gone on several expeditions and tours with the cycling community. "But he doesn't go on such trips without keeping us informed. We hope he is safe and has gone to a place outside the signal area."
Meanwhile, nearly 300 cyclists have posted his pictures on social networking sites like Facebook and Twitter to spread the word around. His friend Deep Udeshi said, "Our members have gone far and wide, asking people if they had spotted Magar. So far, we have travelled to Vasai, Thane, Manori and Marve and our search is on."
The group is also constantly keeping in touch with Malwani and Manickpur police (Vasai) to exchange information.