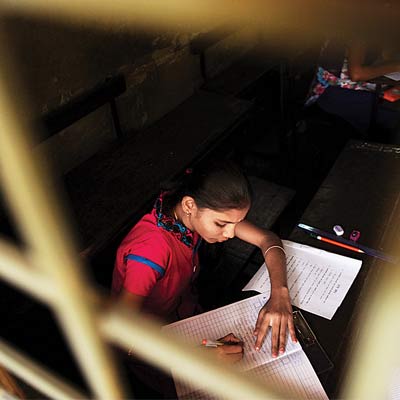 To ensure that the board results are declared in time, the Maharashtra State Board of Secondary and Higher Secondary Education (MSBSHSE) has written to the state education department to exempt the teachers from participating in election duties this year.
In a letter dated, February 6, the state board has written to the state education department, requesting that the teachers of class X and XII, who are assigned duties related to exams be exempted from participating in the work for the general elections starting from April 7, 2014.
"Class X and XII teachers are assigned various exam related duties and the most important of this is the evaluation of the answer papers. If the teachers are given election duties there may be a delay in the process of announcing the results," said Laxmikant Pande, chairperson of MSBSHSE's Mumbai division. The teachers have to correct a total of 49,11,671 answer sheets. Of these, 32,45,769 are of the class X students and 16,65,902 are of class XII.
In its letter, the state board said, "As per the Supreme Court directive the results for the secondary and higher secondary certificate examinations must be announced before June 5. For this, the board requests you to not avail the services of teachers, involved in the exam related work for the Lok Sabha elections of 2014. We request you to forward our demand to the state election commission."
Teachers too have said that an exemption is necessary. "We have papers to check. If we get busy in election related work, then we will not be able to complete the corrections in time. Also making the corrections in haste is not acceptable as this might result in errors," said Anil Deshmukh, junior college teacher at Sathaye College, Vile Parle.
The HSC evaluation has also lost around five days of the assessment time due to the boycott by the junior college teachers. Under the Maharashtra Federation of Junior College Teachers Organisation (MFJCTO) over 60,000 teachers had not started the assessment work until the state issued two government resolutions fulfilling their demands and sanctioned 1,215 teachers' posts.
Cheating cases filed on Wednesday
A total of 56 cases of cheating were registered in the state. In the Mumbai division, which also includes Raigad and Thane, five cases were reported. "All the five cases were from the Bhiwandi region," said Laxmikant Pande, chairperson of the MSBSHSE's Mumbai division.
No requests for additional hall tickets
The Mumbai division did not receive any requests for additional seat numbers on Wednesday indicating that all students had received their hall tickets. "We have given out the hall tickets to all the students. The bar codes have also reached the centre," said Pande. On Wednesday, 2,78,120 students appeared for the Hindi and Hindi composite exam in Mumbai.