While the country's elite disappeared to the Swiss Alps this summer, some set off to the mystical land of Bhutan. Our Westcoast resident tells us about her experience at the Mountain Echoes Literary Festival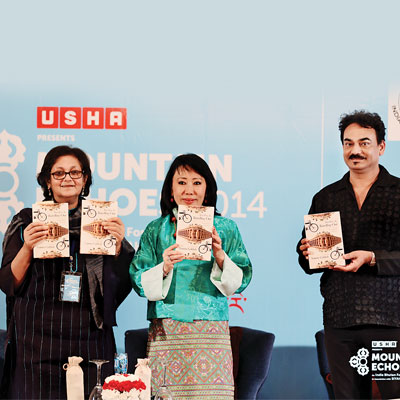 The country that is fondly called 'Last Shangri La' played host to the Mountain Echoes Literary Festival, an initiative by the India Bhutan Foundation. Spanning across three days, the literary fest brought together writers, environmentalists, scholars, photographers, poets, musicians and filmmakers to share stories, create memories, and engage in a cultural dialogue.
Yesteryears actress Waheeda Rehman, fashion designer Wendell Rodricks, celebrity chef Kunal Kapur and author Anuja Chauhan were amongst the many Indian celebrities and authors, who graced the event. Sessions ranged from Bhutanese mythology, fiction, non-fiction, poetry, politics, travel and engaging conversations,where speakers shared their travel memories across the globe.
"The festival has become a place where writers from different areas of literature come every year. They are inspired to write better, interact creatively with each other. There are so many interesting Bhutanese writers who also learn from their Indian counterparts and share a sense of community here. Also, it is an inspiring location for a festival like this," said festival director, Namita Gokhale.
Her Majesty Queen Mother Ashi Dorji Wangmo Wangchuck shared candid childhood memories of her travels through Bhutan, "My travels on foot deep into the heart of Bhutan have made me connect with real people and experience real conditions and that for me is the pleasure of travelling." She inaugurated Travelling In, Travelling Out—A Book of Unexpected Journeys, edited by Gokhale. Sharing the platform with the two women was designer Wendell Rodricks, who has also written an essay for the book. He shared, "The more I travel, the more I realise that all people are one."
While topics of travel enthralled the audience, there was also author Anuja Chauhan, who entertained us with a typically colourful, amusing and frank introduction to her books and the art of writing. The festival was well-curated and offered a rich experience with interesting discussions across diverse topics, including the theory behind crime, detective and thriller genres which were reasonably explored by Batabyal, Doyle and KO Dahl.