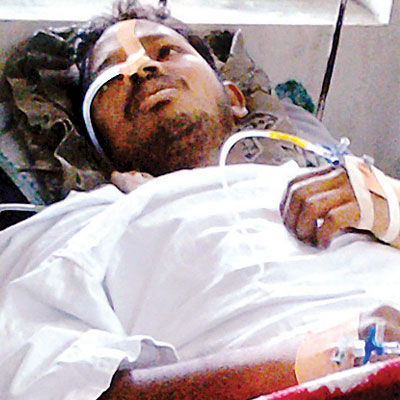 The doctors in LTMG Sion Hospital felt quite helpless when 31-year-old Tanveer Shaikh, the train accident victim, was brought in with his legs amputated on January 15. He had been brought within the 'golden hour', but the surgeons couldn't re-attach his legs as it was a compound wound.
According to doctors who regularly attend to train accident victims, the mortality rate in train accident cases is very high because of the force involved in such cases. Doctors still feel the 'golden hour' period is crucial, but that most accident victims are not brought in within that period.
Dr AK Gvalani, head, surgery department, KEM Hospital-Parel, said: "The 'golden hour' period is crucial in saving a person's life. As far as saving the limbs of people involved in train accidents are concerned, in most cases, limbs are so badly damaged that it becomes next to impossible to reattach them. However, it's important to attend to them as quickly as possible as they can otherwise die due to bleeding."
Dr Satish Dharap, in charge of emergency unit and surgeon at LTMG Sion Hospital, said: "According to our survey, the mortality rate in rail accident cases is twice as that of road accidents. Hence, it's important to ensure that rail authorities and people in general take enough prevention measures. The force in which a victim is hit in a train accident is very strong."
According to Dr Dharap, it's mostly non-Mumbaikars who are victims of train accidents. "Outsiders are not aware of the system and are prone to accidents. I remember a case where a young boy lost both his legs in an accident. He had come to Mumbai for an interview and had boarded an overcrowded train as he didn't want to be late."
Doctors say it is very important that rail accident victims are transported to the right hospital at the earliest.
"Having an ambulance at each station is not enough. There should be very good paramedical staff at hand so that patients get quick medical attention. The staff should also know the nearest hospital that has CT scan, blood transfusion facilities, etc," added Dr Dharap.
It also helps a great deal if doctors handling such cases are aware of the guidelines in dealing with cases related to limb injuries. Dr Ashok Gupta, head of plastic surgery department, Bombay Hospital, and president, Association of Plastic Surgeons of India, said: "There are set guidelines on how to handle limb detachment cases, especially when re-attachment surgery is involved. The railway police, who deal with such cases, should also be aware of them."
Care for the completely amputated body part:
Recover the amputated body part if possible, and transport it to the hospital along with the injured person. If it cannot be found right away, transport the injured to the hospital and bring the amputated part when found.
Gently rinse the dirt and debris with clean water, if possible. Do not scrub.
Wrap the amputated part in a dry, sterile gauze or clean cloth.
Put the wrapped part in a plastic bag or waterproof container.
Place the plastic bag or waterproof container on ice. The goal is to keep the body part cool, so care must be taken to see that the ice do not damage it further. Do not cover it with ice or put it directly into ice water.
Amputated parts can be successfully reattached. The success of the process depends on:
Which body part is amputated.
The condition of the amputated part.
The time since amputation and receiving medical care.
The general health of the injured person.
What railway authorities need to do
Deploy ambulances at every station with trained paramedical staff and a list of nearby well-equipped hospitals.
Keep ice box, etc handy at stations so that detached limbs can be transported properly.
Regularly patrol areas between two stations.