Mastermind, a staffer, recuperating in hosp; his cousin who executed the robbery held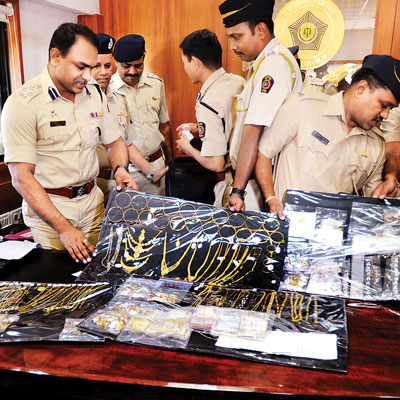 The Oshiwara police have arrested the suspect who had allegedly looted gold and cash worth Rs58.73 lakh from a jewellery shop in Jogeshwari last week. Interrogation of the suspect, Ravi Vaishnav (19), revealed that the robbery was planned with the help of his cousin Mukesh Vaishnav (25), who had been working in the shop for the past one year.
After Ravi left the shop with the booty, Mukesh inflicted injuries on his body to make it look like a real robbery as also to divert attention of the investigators from him. Mukesh is still recuperating in a hospital and the cops are waiting for him to be discharged before they could arrest him. Both the accused hail from Rajasthan.
With the arrest of Ravi, the police have recovered the entire stolen jewellery and cash from his possession.
According to the police, the incident took place around 1.30pm on Friday last when two persons allegedly barged into Iqra Jewellery Store in the Vaishali Nagar area of Jogeshwari (West), attacked Mukesh with knife and fled with gold jewellery and cash worth Rs58.73 lakh.
"The incident came to light after Khalid Hakim (52), owner of Iqra jewellery store, found Mukesh lying in the store unconscious. He then informed the police about the incident. Mukesh told in his statement to the police that two robbers attacked him and decamped with cash, valuables as well as the hard disk of the CCTV camera," said a police officer.
However, the investigators became suspicious when they realised that the robbers had not stolen the immitation jewellery from store. "Even, they had not damaged anything in the shop while taking away the CCTV hard disk," said Milind Bharambe, Additional Commissioner of Police (West Region).
"When we questioned Mukesh again and again, he started changing his statement. During further investigation, we learnt about Ravi, who had fled to his native place by then. We then picked him from Rajasthan and he confessed to the crime after sustained interrogation," said another officer.
"Ravi told that the robbery was planned and executed with the help of Mukesh, who wanted to become rich quickly," he added.