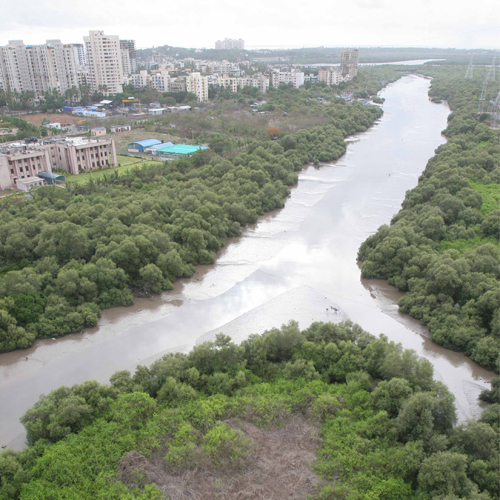 Sea levels are rising due to climate change. The World Bank has ranked Mumbai as one of the most vulnerable cities to sea level rise in the world – fifth in terms of overall cost of damage and seventh in terms of damage measured as percentage of GDP.
The horrors of July 26, 2005 still haunt us every time there are predictions of heavy rainfall. Flash floods and landslides occur, in some capacity, every year during the monsoons. The floods, stagnant water and untreated surface runoff catalyse the spread of diseases, deterioration of ground water quality generating negative perceptions of these vulnerable urban spaces.
In response, the municipal government expands its budget to install larger storm water pipes and constructs new sewage treatment plants. However, there are no attempts made to address the root cause behind these issues – ineffective top-down government regulations with general public apathy as a by-product. To better address these causes, one must first analyse the city's morphology.
Mumbai, from being an archipelago of seven islands with wetlands between them, was consolidated, first by the British and then by the Indian government into one large land mass. The city grew northwards and employment centres were set up together with housing complexes, which in turn attracted informal communities to encroach nearby.
Parallel to this growth, government organisations set up infrastructure and created spatial strategies for development in order to streamline the way for entrepreneurial agencies to populate the market. In search of this market oriented goal, naturally existing systems (mangrove forests, wetlands, rivers) were ignored, and at many places erased. The consolidation of islands resulted in most of the wetlands being sacrificed thereby, causing a shift in balance – urban development replacing nature. The mangrove forests, rivers, and wetland systems that protected the coastal suburbs from high monsoon tides and floods were compromised.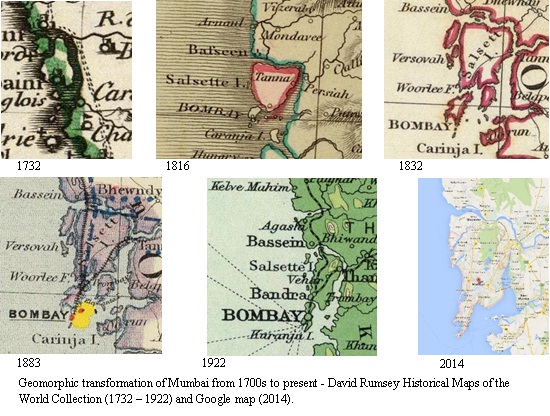 Despite the municipality constructing concrete roads and building storm water drains, lack of maintenance and unchecked growth of formal and informal developments blocked these drains with solid waste. To add to this, deforesting wetlands made the city vulnerable to tidal surge, causing storm water drains to overflow back into the city during high tide.
In addition to issues of flooding, the sea level around Mumbai is projected to rise by 48cm by 2100, which, along with tidal and storm surge, could have devastating impact on the coast. There have been an insubstantial number of studies carried out on this issue. A Google search reveals some newspaper articles mentioning the possibility of sea level rise, and a general technical report from the National Institute of Oceanography in Goa.
However, thanks to public protests due to frequent floods, the remaining mangroves and wetlands have been placed under protection of the forest department and strict regulations have been set against their deforestation. Most or all the mangrove forests are now located along coastal edges of Mumbai. They have been pushed out, and rivers have been squeezed in, leaving Mumbai vulnerable to tidal waves, floods, erosions and sea level rise.
Deeper examination suggests the urban corridors of Mumbai's river emerge as one of the greatest potentials to not only address issues of flooding, but also create a liveable and symbiotic urban environment. Mumbai's rivers are seasonal and begin in the catchment areas in the hills of Borivali National Park, and flow via wetlands – Dahisar in the north, Oshiwara towards the west, Poisar in the centre and Mithi in the southern part of Mumbai – into the Arabian Sea.
To illustrate one framework to address many of these issues, the Oshiwara River's urban corridor is chosen. It shows these symptoms as empirical evidence of larger issues – river water and the bed are polluted due to point and non-point source pollution from the watershed. Regular floods during monsoons in the watershed due to storm water pipe outlets getting choked by garbage in addition to change in depth of riverbed caused by excess sedimentation. And negative perception among people who live in or pass by this watershed due to the foul stench and inaesthetic River edge.
The root causes of these symptoms are attributed to government policies and their ambiguous definitions of urban rivers: for example, the fact finding committee's report on the Mumbai floods calls Oshiwara River a 'nalla' while listing places for improving storm water drains, and it becomes a 'river' when describing the flooded areas. The Municipal Corporation of Greater Mumbai (MCGM), on its website, lists three major nallas for P South ward, Oshiwara River being one of them.
The term 'nalla' brings images of polluted, smelly, mosquito infested open drains. Thus, when the government itself refers to rivers as nallas, it is no surprise residents perceive and treat the river as an open drain. Furthermore, despite specifying areas under Coastal Regulation Zone (CRZ), there is no readily available information or maps illustrating this. Thus, this leads to multiple interpretations of developable land forcing the municipality to only be able to react retroactively.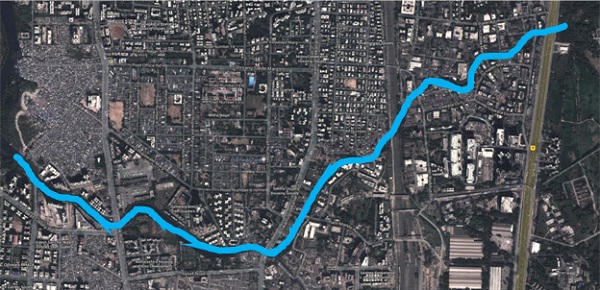 Satellite map of Mumbai with Oshiwara River marked in blue.

Residences set back sufficiently or build tall compound walls to avoid direct view.

The untreated waste accumulates and settles down as a form of sedimentation. This affects natural flow of the river and adversely impacts the stream's water carrying capacity causing overflow and flooding during heavy rains and high tides.

Untreated surface runoff and storm water is released directly into the river.

Bridges going across the river lack any pedestrian infrastructure and are not properly maintained by the municipality.
Furthermore, a multi-layered top-down structure complicates the process of implementation and maintenance of regulations and policies. Physical infrastructure in Mumbai is operated and maintained by the MCGM's Storm Water Department. At the state level, it is the Maharashtra Coastal Zone Management Authority that lays down measures to protect and improve the quality of coastal environment, and prevent, abate and control environmental pollution along the coast. At the national level, the Ministry of Environment and Forests (MoEF) sets out general guidelines for conserving the nation's natural resources.
Meanwhile, residents and laypersons are completely unaware of the existence of these regulations. The only time they become aware is when they are charged an additional Rs 6 per square foot while purchasing an apartment within the CRZ. This lack of awareness of ecological issues when coupled with extra payment furthers the negative perception towards natural systems, especially nallas … er rivers.
The way forward lies in seeking ways to address these root causes. Spreading awareness of ecological benefits that urban rivers provide, among all residents of formal and informal housing types, is probably one of the most important first steps. This can be done through informational leaflets, public exhibitions, and popular media like movies and newspapers. Additionally, surveys should be administered to learn about people's perceptions of their neighbourhoods and of the river itself. These can help planners learn about and learn from local knowledge, in order to focus on future policies.
Subsequently, a decentralised approach could be proposed where residents themselves are given control of managing all rainfall that falls on their property – through rain water harvesting, surface runoff treatment and detention basins. This can take care of the load on both the municipal infrastructure and Oshiwara river, thereby prevent backflow during high tides. Through such inclusive approaches and trusting local knowledge there is tremendous scope for more innovation in water treatment and management.
Here, the government should be facilitator and mediator, ensuring that processes are all inclusive. There should also be transparency in the planning stages especially for cross departmental collaboration – storm water management, road transport, sewerage, and housing departments. Decentralising the process would help cut through red tape and give more teeth to the municipality. The blanket CRZ norms could be modified as per local conditions based on topography, hydrology and watershed. This could be used as an incentive for developers to use best management practices for water treatment and management within their properties.
The government also has the potential to set a precedent for the rest of the city. Most of the land south of Oshiwara River between Link Road and SV Road is zoned as Special Planned Area and owned by the MMRDA. They have plans to create an Oshiwara Business District here. However, the Sea Level Rise Explorer map suggests that a major part of this area would be under water by 2050 and most of the rest of it by 2100. MMRDA could use this as an opportunity to propose sea level rise resilient designs through surrender strategies, and building a combination of horizontal and vertical levees by planting wetlands and mangrove forests along the river's edge.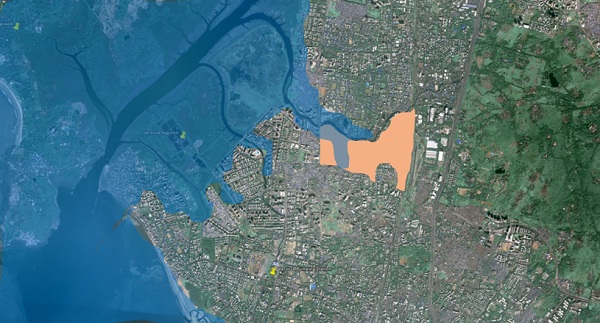 Inundation projections along Oshiwara River corridor by 2050, created by Arijit Sen on ArcGIS, base map – Imagery@2014 Data SIO, NOAA, U.S, Navy, GEBO, Landsat, Map data @ 2014 Google, created on 20/1/2014. Area marked in orange is Special Planned Area owned by MMRDA.
Following the decentralised approach could potentially pave way for a watershed based zoning, where land use is determined by land form and natural resources, rather than the current method of Euclidean zoning (similar land uses grouped close to each other regardless of physical conditions). Here, the water gets collected and treated through multiple ways:
i.) Rain falling on terraces can be captured via vegetated roofs. This will not only reduce the volume of rainwater coming down, but also treat it. Water from here will be collected in rainwater storing tanks located near the building's underground water supply tank.
ii.) Combined flow through planters (bio-retention planters) along sidewalks will help capture and treat surface runoffs.
iii.) Detention ponds in residential blocks will help capture, treat and store temporarily water from surface runoff within the demarcated neighbourhood block (proposed sub-watersheds).
iv.) Sub-surface flow wetland systems along edge of the river could collect surface runoff in addition to the treated water from detention ponds of neighbourhood blocks abutting it. This will prevent effluents and harmful pollutants from entering the river.

Schematic diagram explaining how decentralisation of storm water could be managed, Sketchup 3D model drawn by Arijit Sen on 10/4/2014.
In order to convert this concept into a realistic proposal, the river's watershed can be further divided into 28 sub-watersheds defined by housing complexes, in addition to topography.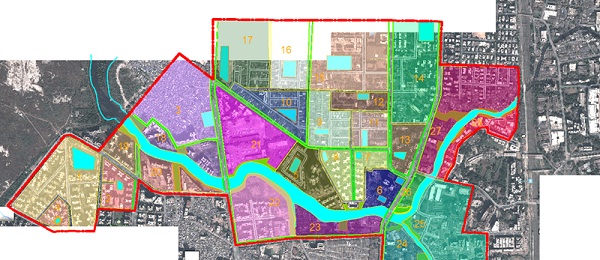 Neighbourhood block level watersheds drawn according to residential complexes along Oshiwara River corridor, base map – Imagery@2014 Data SIO, NOAA, U.S, Navy, GEBO, Landsat, Map data @ 2014 Google, diagrams drawn by Arijit Sen, created on 1/10/2014. The areas marked in blue are potential locations for detention basins.
This decentralised approach will not only help detain and treat surface runoff water until the tide subsides, and prevent overloading the river, but also help recycle water for non-potable purposes, thus, easing load on water supply infrastructure as well. Additionally, sensitively designing the detention basins, treatment planters, and wetland swales could potentially create a liveable environment in the development corridor.
These intervention ideas could be summarised as:
i.) River and riverfront restoration through an inclusionary approach and modification of (presently) top-down ambiguous policy formulating and regulating process.
ii.) Spreading awareness and influencing perceptions of space about riverine ecosystems and their benefits.
iii.) Improving storm water drainage infrastructure along the development corridor and sea level rise resilient strategies along the development corridor using decentralised approach.
In order to arrive at the best possible interventions these ideas were tested against the following performance criteria: effectiveness, feasibility and equity.
Alternatives

Water quality

Edge condition

Accessibility to River

Disaster prevention

Flora & Fauna

Vitality

Total

River and riverfront restoration through 'inclusionary' approach and modification of (presently) top-down ambiguous policy formulating and regulating process.

Potential to improve.

Walking paths, children's playground, festival and event spaces activate the edge. (Based on precedents like Bandra promenade revitaliasation project).

The waterfront could be opened up and made more accessible to residents, passersby and the entire city.

Innovative designs and techniques can be used. Such as, ripraps and wetlands to break waves and prevent tsunamis in addition to holding on firmly to the soil preventing erosions and landslides.

'Cleaning up' of the edge discouraged scavenging birds and instead migratory and other sea birds are seen there now. (Based on precedents like Bandra promenade revitaliasation project).

People start using the promenades and waterfronts right from 5 AM up to 2 AM. Most of these are residents, but many are visitors from different parts of the city.

It has the potential for economic development of the neighbourhood. .

5/6 – MEDIUM HIGH

Spreading awareness and influencing perceptions of space around river ecosystems and their benefits.

No direct impact.

No direct immediate impact.

No direct impact, but expeditions and nature walks might be organized.

No direct immediate impact, but authorities might be pressurized to provide information and disaster management plan.

No direct impact.

No direct impact.

1/6 – LOW

Improving storm water drainage infrastructure and sea level rise resilient strategies along the development corridor using decentralized approach.

Treated & usable for non-potable purposes.

Sub-surface wetland swales – pleasant environment.

Detention basins, wetland swales lining the edge make it very accessible to everyone.

Detention basins prevent loading the River excessively. At case study sites, floods, erosion and landslides have become a thing of the past.

Presence of natural treatment systems create conducive environment for migratory birds and dissuade scavengers.

Detention basins could double up as playgrounds during dry months attracting residents. Wetlands, and planters along sidewalk will create a comfortable micro climate for residents and passersby to pause and talk.

6/6 - HIGH
The table above illustrates that a combination of Interventions 1 and 2 would be most effective while Intervention 3 would be the least.
Alternatives

Timeline

Organizational hurdles

Externalities

Response from users/ residents

Total

River and riverfront restoration through 'inclusionary' approach and modification of (presently) top-down ambiguous policy formulating and regulating process.

Precedent studies (Bandra promenades) suggest approximately 3 years.

MCGM, Bandra residents association, police, private funding agency. All worked in unison since this was a resident-initiated program supported by Municipality. (Based on precedents like Bandra promenade revitaliasation project).

Unless managed by an unbiased party, it could lead to displacement of informal communities, as residents from housing complexes could throw their weight and over-rule opinions and voices of residents from informal communities.

Since it would be a bottom-up approach, it would be the users themselves who would benefit most.

3/4 - HIGH

Spreading awareness and influencing perceptions of space around river ecosystems and their benefits.

Public exhibitions on this issue that have been organized in the past, took 2-3 years to develop. (Example- Soak & Open Mumbai)

Funding agency, organization/ institution/ individual undertaking the awareness drive.

Could run short of funds.

Shortage of staff to undertake the program.

Criticism from architects and planners.

Past exhibitions have received very positive response evident in the fact that both, Soak and Open Mumbai, were extended for a significant amount of time.

3/4 - HIGH

Improving storm water drainage infrastructure and sea level rise resilient strategies along the development corridor using decentralized approach.

Projects elsewhere have been implemented rapidly. In Mumbai, due to presence of so many stakeholders, it is unpredictable.

MCGM, SWD, Central Housing Societies and its members, individual home owners, informal settlements, MSRTC, MMRDA.

Extensive hydrological, topological, hydraulic research would be required initially before laying the first stone.

Cost of procuring plants and other materials.

Might require high initial maintenance and operating costs until the plants grow and become self-sustaining. This might invite push-back from residents.

Saving and storing water might relieve them from relying on Municipality's erratic supply, hence positive.

0.5/4 - LOW
Interventions 1 and 2 rank highest in terms of feasibility. However, Intervention 3 appears to be the least feasible. Hence, using parts of interventions 1 and 2 might help creating the impetus needed to kick-start storm water drainage improvement and work towards a more effective solution.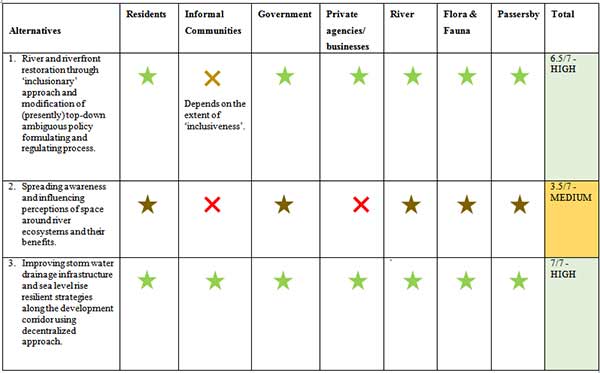 Intervention 3 appears to be the most equitable alternative. Intervention 1 is a close second, however, it does nothing to take care of displaced informal communities. Herein lies one of the greatest discrepancies of this evaluation.
The impact on informal communities is deduced as negative because of the elitist attitude of the public wherein under the pretext of 'beautification' informal settlements and encroachments are bulldozed away from the waterfront. In the context of this evaluation it could be argued that this impact is significantly greater than the impact on passersby or the private agencies or businesses – for instance, 3,000 slum dwellers could be evicted and rendered homeless overnight, while 20 people passing by would find the new waterfront attractive and decide to hang out there every day. Would this mean that evicting 3,000 slum dwellers would be same as losing 20 new visitors to the waterfront? Probably not. Hence, due to the absence of an unbiased rationale for designating a hierarchy to the people / agents affected by these interventions, they have all been assumed to be the same, for the purposes of empirical evaluation. However, close attention must and will be paid to who is and who is not affected while recommending policies and implementing interventions.
Summary
Alternatives

Effectiveness

Feasibility

Equity

Total

River and riverfront restoration through 'inclusionary' approach and modification of (presently) top-down ambiguous policy formulating and regulating process.

MEDIUM – HIGH

(5/6)

HIGH

(3/4)

HIGH

(6.5/7)

14.5/17

Spreading awareness and influencing perceptions of space around riverine ecosystems and their benefits.

LOW

(1/6)

HIGH

(3/4)

MEDIUM

(3.5/7)

7.5/17

Improving storm water drainage infrastructure and sea level rise resilient strategies along the development corridor using decentralized approach.

HIGH

(6/6)

LOW

(0.5/4)

HIGH

(7/7)

13.5/17
Analysing the various symptoms of Oshiwara River, scrutinising its issues and proposing various interventions lead to some avenues where new policies or modifications could be recommended to achieve the most effective, feasible and equitable results for the river's urban corridor:
1.) Distribute survey questionnaires and informational leaflets in areas vulnerable to floods, sea level rise and other natural calamities.
2.) Encourage and subsidise public awareness programs via art and architecture exhibitions.
3.) Strategies and designs to improve storm water drainage infrastructure along the development corridor require to be laid out soon before the entire system collapses leading to large scale disaster.
4.) Promote transparency in the planning stages by encouraging cross-departmental collaboration (storm water management, road transport, sewerage, and housing) and public participation.
5.) Participation of residents and experts is essential during the design development stage to not only spread awareness of the proposal's benefits, but also provide them ownership of the process.
6.) Decentralised approaches to storm water drainage treatment and management should be undertaken to ease load from existing deteriorating drainage and water supply infrastructures.
7.) Modify existing norms of the CRZs and make them more flexible according to topography, hydrology and watershed of the site. This could be used as an incentive to interested developers to use best management practices for storm water treatment and management.
8.) Set up strict urban river water quality standards and perform regular maintenance and inspections.
9.) Adopt revenue generating mechanisms along the river instead of levying fees to residents.
10.) Revitalising Oshiwara river into a natural amenity like an ecological corridor, to prevent it from getting neglected and instead, benefit residents and communities along the corridor.
Among these recommendations, the need to spread public awareness and involve local populations for making decisions are most essential. Additionally, the importance of improving storm water drainage infrastructure and proposing sea level rise resilient strategies along the urban corridor, illustrate the need to integrate the site's physiology with land use. Thus, a two pronged approach of upgrading infrastructure sensitively, and utilising local knowledge are most relevant to maximise the potentials provided by the urban corridors of Mumbai's rivers.
Arijit Sen is a research student of UC Berkeley.