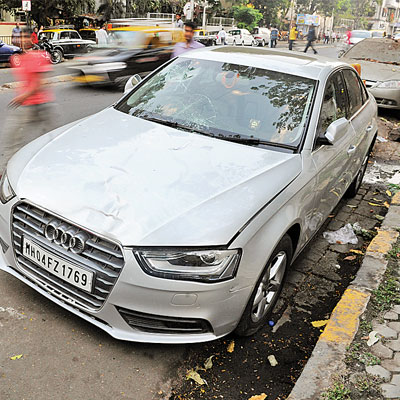 The Gamdevi police have identified the owner of the luxury car that rammed into a 32-year-old pedestrian late on Wednesday night. However, the police said that the Audi was being driven by the driver of the owner and not by the latter.
An officer from Gamdevi police station said, "With the help of the registration number of the vehicle, we traced the owner, who has been identified as Tushar Hiranandani, a resident of Bandra. The owner has told us that the car was being driven by his driver, Javed, who is absconding since the accident."
The incident occurred around 11.55pm when the speeding car, was headed towards south Mumbai to pick up his employer. Javed had dropped Hiranandani in the evening and was instructed to pick him up later in the day. The deceased, Radheshyam Phasi, who works as a house help in Breach Candy was crossing the road near Cumballa Hill telephone exchange when the car rammed into him.
Due to the impact of the collision, Phasi was flung and first landed on the bonnet, cracking the windshield and was then thrown off. The driver fled from the spot leaving the car behind. Locals informed the police, who then rushed him to Nair Hospital, where he was declared dead on arrival.
Police said that Hiranandani, who apparently has no connection with the Hiranandani group, does not even know his driver's the full name. He has given Javed's mobile number to the police which they have being tracking down.
Javed has been booked for causing death due to rash and negligent driving of IPC and relevant sections of the Motor Vehicles Act.