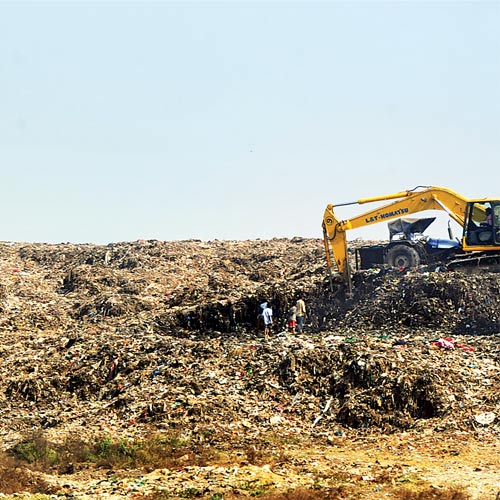 Chief minister Prithviraj Chavan has assured he would take up the matter of the Deonar dumping ground with the civic chief and find a way to shut it down at the earliest.
This was conveyed by Janardhan Chandurkar, president of the Mumbai Regional Congress Committee, to Yusuf Abrahani, former Congress MLA on Thursday, after a day-long dharna by hundreds of residents in Govandi. "The chief minister has assured that he will call the municipal commissioner next week to discuss the issue and come up with a solution. We have demanded that the civic chief take this matter seriously or face the wrath of the people," said Abrahani.
Abrahani launched the latest protest last week and warned that residents would dump garbage at the civic headquarters if a solution was not found quickly. Chandurkar met Chavan to brief him on the plight of residents in the area of the dumping ground, which has generated serious health concerns.
More than 1,200 truckloads of garbage are dumped daily at this site which has long exhausted its capacity but the civic body is dragging its feet to close it.
"The civic chief says the dump still has capacity to take garbage for another couple of years. This, after the piles have gone beyond nine storeys high," Abrahani said.
The former MLA pointed out that disposal of bio-medical waste was an added problem. "The gas emission from the dump is a concoction of carcinogenic methane, carbon dioxide and hydrogen sulphide, along with fine particulate matter and this is responsible for the high incidence of tuberculosis (TB) in the Shivaji Nagar area that is nearest to the dump site," he said. This effect is also felt in neighbouring Chembur and distant Vashi.
According to information available, the civic health post in the area receives up to 1,800 TB cases. Asthma and skin diseases are common among residents of the area where respiratory failure is the biggest cause of deaths. Infant mortality in Govandi is at 60.80 per 1000 live births, double the average of 35.2 for Mumbai.
The high court has intervened often in the matter, but the civic administration has pleaded inability to close the dump for want of an alternative. Dumping at a newly opened site at Kanjurmarg has also been suspended after violations were pointed out by a public interest group.
"We are looking for alternatives, but are finding it difficult to get a good option," said a senior civic official in the solid waste department.