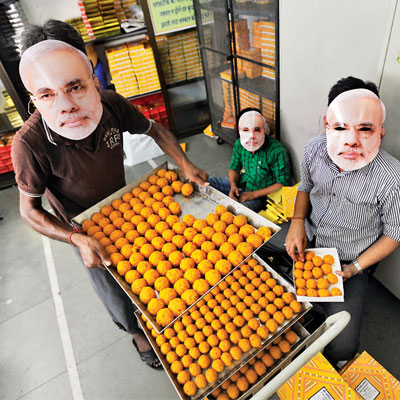 Anticipating a grand victory, the BJP state unit has prepared a giant cake and as many as 40,000 ladoos to distribute among people after the Lok Sabha election results are out on Friday.
The party will also install giant LCD screens to relay results at the state headquarters. Facilities for media interaction have been made and the social media cell of the party will be working overtime to feed latest statistics and election results to the leaders appearing on television.
Victory rallies of candidates have been planned in places like Kandivli and Mulund. "We are 100 per cent sure that the candidates here are winning and that is why we have already planned victory rallies in these places," said a party activist.
"This will literally be like a Diwali for the North Indians in the city, the Uttar Bharatiya Morcha has already appealed to members of the morcha and the North Indians in the city to light diyas in their homes and celebrate it," said Omprakash Chauhan, spokesperson of the state unit.
The Bandra Hindu Association led by BJP leader Ajit Maniyal has planned a music and dance programme along with lunch and fireworks on May 16.