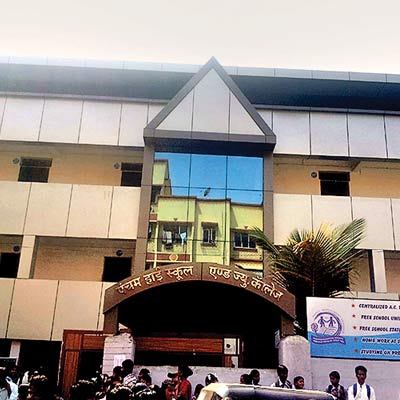 It was dna reports that chronicled the pathetic condition of Nalasopara school exam center last year that led to an inquiry into the issue by the education board. The board subsequently directed the school to renovate place and provide adequate facilities to students writing exams.
The Pancham high school and junior college at Shankeshwar Nagar in Nalasopara East came under the lens of the education board after the dna reports on 24 February 2013, ('Exam Fever: Students suffer at HSC exam center') and 26 February 2013 ('HSC Exam: Rickety Nalasopara school faces probe').
Officials of the education board soon visited the school and inspected the building, which earlier had no doors, toilets or electricity and lacked infrastructure facilities.
"We were summoned by board officials and authorities visited our premises after the reports appeared. We then decided to completely renovate the school. We now have better facilities—aluminium sheet roofing, proper ventilation, cooling glasses, proper water and toilet facilities, electricity connection, good benches, etc., said Ramkesh Yadav, the principal of the school.
"We had no option, or else our exam center would have been debarred the next year. Now students can write their exams with comfort," said Yadav.
"Earlier, students were scared when they heard they had been allotted Pancham high school for exams as the school did not have adequate facilities, but now the school has proper facilities, said Manoj Sakpal, a student.
Edu board begins probe into unchecked copying
The education board has initiated a probe into the rampant cheating in HSC exams that went on unchecked in Lokmanya Tilak high school and junior college in Nalasopara East, after the dna ('Keep quiet while copying, says supervisor') reported the matter on Wednesday. The flying squads now will closely monitor the exams being conducted in the school.
The chairman of the Mumbai division of the education board, Lakshmikant Pandey, said: "We have initiated a probe into the matter and will speak to the grieving students if they come forward. Our flying squads will monitor the examinations in the school. If found guilty we will take necessary action. We will send the education officer of Vasai-Virar to the spot and make sure that students do not suffer during exams," said Pandey.