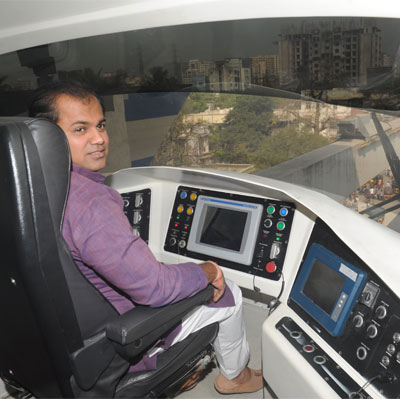 Officials have ensured that commuters have a safe monorail ride. The train captains will have to undergo breath analyser tests in the same way as aircraft pilots. Scomi, the company operating Mumbai Monorail, has come up with a system in which monorail captains have to go through a breath-analyser test when they report to work to ascertain if they are drunk.
If any monorail official is found to be drunk, rules are in place to take necessary action against them. The notification published by the state government on January 20 reads: "If any Monorail official is in a state of intoxication while on duty, where the improper performance of the duty is likely to endanger the safety of any passenger travelling or being on the Monorail, s/he shall be punishable with fine of Rs200."
The penal action is on and above the administrative disciplinary action that will be taken against the official.
"This is being done for safety purpose. Apart from monorail officials, even drunk passengers will be punished," said UPS Madan, Metropolitan commissioner of the Mumbai Metropolitan Region Development Authority. Madan added that the idea of introducing breath-analyser test is a good move for a disciplined staff and to instil safety and confidence among commuters.
Air pilots who are caught under the influence of alcohol are suspended for a couple of weeks and then grounded. They even have to undergo de-addiction counselling.