Freelance journalist threatened, assaulted for complaining about illegal sale of gutkha and recording accused being taken to court with hands tied.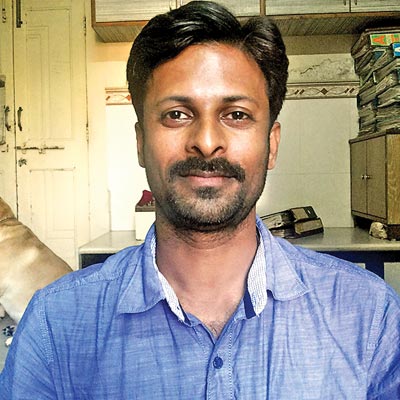 Ambernath resident Rajil Menon, 34, must not even have imagined that he would have to pay a heavy price for complaining about the illegal sale of gutkha. The freelance journalist was assaulted by policemen who even threatened to "gang rape his mother for giving birth to a son like him". His phone was seized and not returned on the promised date of February 15. He has been asked to collect it in May.
One person was held after Menon complained to the Food and Drugs Administration (FDA) on January 7 about the open sale of gutkha at Kalyan railway station despite the ban on the product. He was compelled to approach the FDA as the railway police was not acting on his complaint.
The following day, Menon went to the same spot to check if gutkha was still being sold illegally. While on his way, he saw 15-20 people, who are accused in several cases, being taken to the nearby railway court with their hands tied. "They looked poor and uneducated. Their hands were tied with a long rope and they were being taken to court in a line. Some of them, who looked famished, fell down and were beaten up inhumanely with the end of the rope," Menon told dna.
Aware that tying the accused was in violation of the Supreme Court guidelines, Menon instinctively began videographing the accused. "Before I could realise what was happening, a swarthy railway police constable grabbed me by my shoulder and said it was illegal to take photos in court premises," Menon said. He told the constable that accused had just stepped into the court compound and that his intention was not to violate any law.
The constable, however, refused to accept Menon's explanation. "He forcibly took me to two of his well-built seniors, who were in a mufti. "They abused and shouted at me, and took me to the public prosecutor inside the court. The prosecutor warned me against taking photographs in court premises in the future and asked the policemen to let me go," Menon said. But his ordeal had just began.
One of the policemen identified him as the person who had complained against the sale of gutkha. Since then, things took a turn for the worse. "I was taken to platform number 4 of Kalyan railway station and pushed into the lock-up after being assaulted by several policemen. My mobile phone was taken away and my protests went unheeded. After noting down my address, a senior police official told me that the cops would go my house and gang rape my mother for giving birth to a son like me," a shocked Menon told dna. "Inside the lock-up, I was repeatedly punched on my stomach. I screamed in acute pain, but the cops continued to beat me. I can identify those who thrashed me. They told me in Hindi, 'Tu kisse panga leta hai maloom hai kya!' They said they would make me rot in the lock-up that night."
Menon had assumed that he would have to spend the night in the lock-up. But luckily for him, a local hawker, who knew him, had seen Menon being held by the collar and dragged to the police station. He alerted railway activist Sameer Zaveri who, in turn, asked Menon's activist-friend Satyajit Burman of Ulhasnagar to rush to the police station. Menon's fiancée Priyanka Ghosh, who is a lawyer, was also informed about his plight.
"All of them came to the police station which angered the policemen even more. They could not figure out how my friends got to know that I was in custody. The policemen abused and slapped me even more and told me that I had been arrested under section 146 of the Railways Act, 1989, which calls for punishment for preventing a railway public servant from performing his duty. It was very bizarre," Menon said.
Menon was produced before railway magistrate AR Kamble and released on a bail of Rs1,000. Priyanka was denied a copy of the seizure panchnama. "My mobile phone is still with the authorities. I was asked to collect it on February 15, but when I went that day, I was told that I will have to come in May," Menon said. Zaveri and Menon's other friends have decided to fight against the mental agony and physical torture his friend faced. "We are determined to get justice for Menon. The abuse of law and corruption in the railway police has to stop," Zaveri told dna.