The special MCOCA court had, on August 17, framed charges against the 21 arrested accused in the arms haul case.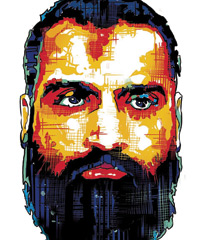 The Anti-Terrorism Squad (ATS) of the Maharashtra police on Thursday filed a supplementary charge sheet against the alleged LeT operative and 26/11 Mumbai attack handler Sayed Zabiuddin Ansari, alias Abu Jundal, in the 2006 Aurangabad Arms haul case.
"We have filed a 3,650-page charge sheet against Jundal, and named him as key accused," said an ATS official in Mumbai.
On May 8, 2006, a Maharashtra ATS team had chased a Tata Sumo and an Indica car on Chandwad-Manmad highway near Aurangabad in the state and arrested three terror suspects and seized 30kg of RDX, 10 AK-47 assault rifles and 3,200 bullets.
The car was allegedly driven by Jundal who managed to give police a slip. Hailing from Beed district of Maharashtra, Jundal drove to Malegaon and handed over the vehicle to an acquaintance.
A few days later, he allegedly escaped to Bangladesh and then went to Pakistan on a fake passport, according to police.
The special MCOCA court here had on August 17 this year framed charges against the 21 arrested accused in the arms haul case. Barring Jundal, other accused were arrested in 2006.
The trial had been stayed by the Supreme Court after one of the accused challenged the constitutional validity of certain provisions of MCOCA. The stay was lifted in 2009.
Along with Jundal, ATS has also made Fayyaz Kagzi, who is shown absconding, a key accused in the case.
ATS sources said they have recorded the statements of 270 witnesses