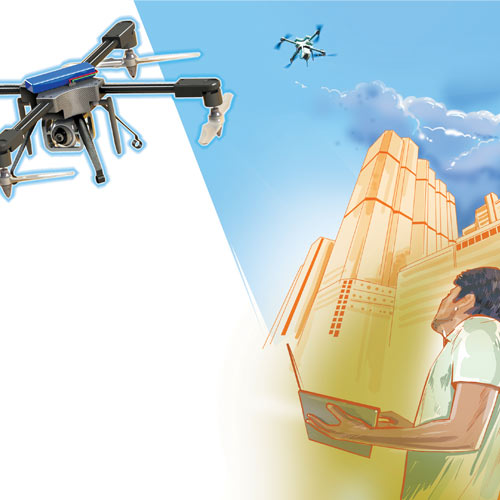 The Mumbai Police had taken special efforts to ensure the BJP's prime ministerial candidate Narendra Modi's rally on Sunday goes without a hitch.
A total of 25 policemen, trained by Israel's security forces to tackle suicide bombers, were deployed at MMRDA grounds at BKC. An Unmanned Aerial Vehicle (UAV) too was used to give the rally more security.
Two persons were found moving suspiciously in the crowd, but interrogations revealed they were pickpockets. "The two pickpockets were taken to BKC police station. There was citywide parallel deployment at vital installations and important places, malls and multiplexes as part of Mumbai Kavach," said Madhukar Pandey, additional commissioner of police, protection and security.
Sources said 25 policemen from the Quick Response Team, Special Protection Unit and Anti-Terror Cells were posted at all access gates and important spots at MMRDA grounds. "These men had taken special training from Israeli security forces in spotting and combating fidayeens or suicide bombers. It's for the first time these men were pressed into service," said an officer, who was part of security.
The police had gone an extra mile for a fool-proof security by installing mobile phone jammers near the stage where the VIPs were present.
"The mobile phone jammer jammed calls within 200m from the stage. We have seen in the past that terrorist elements have made use of mobile phones to trigger improvised explosive devices to carry out blasts. The basic idea was that even if someone were to sneak in with IED, the jammer would prevent mobile phones from being active, thereby making the detonator ineffective and the bomb wouldn't go off," the officer said.
For aerial surveillance, the Mumbai police had also used Force One owned UAV, Netra.
"UAV was used with the intention of monitoring crowd, spotting unnatural behaviour and checking pressure points. Besides, a notification was issued by the police, banning micro-aircraft and paragliders over MMRDA grounds till the rally got over. The UAV was activated by 11am and was doing surveillance till the rally ended around 3.50pm," said the officer.
A total of 3,000 policemen were deployed at the venue. An additional commissioner was monitoring the situation from the police control room and another had been posted at BKC.
How the UAV works
Netra can fly up to 2.5km high.
The operational altitude of the UAV is 200m and with an on-board wireless transmitter, it can carry out surveillance in an area of 1.5km Line of Sight at the height of 300m.
UAV flies on its own and returns to the home base after completion of the mission.
It has a high-resolution camera with a pan, tilt and zoom to facilitate wider surveillance and can also carry a thermal camera for night operations.
The zoom-in camera can identify human activity up to 500m away and can send live video feed of objects within 5km radius. The images are sent through a local wireless network to laptops for monitoring.
It can fly for 30 minutes on a single battery charge. It can return to base if there is loss of communication with the controller or if the battery is low.